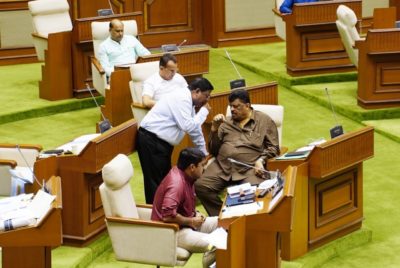 GAURANG PRABHU/ Goemkarponn
MARGAO: NCP MLA and a veteran politician Churchill Alemao has always said that Benaulim is his safe heaven, and people always stand by him.
However, in the present scenario, the situation seems different as Aam Aadmi Party and the Congress are giving a tough challenge to Churchill in Benaulim.
The one time king of Benaulim has been pushed to the back-foot, and only division of votes at large can give advantage to Churchill.
The recently held Zilla panchayat election results had pushed Churchill's candidates to 3rd position while AAP emerged victorious and Congress candidate claimed the second position.
Similar was the result of the Colva Zilla seat, where the Churchill candidate won with a slender margin.
Both results show the growth of AAP and Congress in the Benaulim constituency and the decrease in vote share of Churchill.
Time and again, Churchill has been trying to put pressure on Congress for the alliance to get the support of Congress in Benaulim as the party has sizeable votes in teh constituency.
Churchill had dominated the Benaulim constituency from 1989. He was once defeated by Micky Pacheco in 2002. Later, he shifted to Navelim, and his daughter Valanka was defeated by fresh face CaitanoSilva in 2012.
Churchill came back strongly in 2017, winning the seat by a big margin defeating AAP candidate Royla Fernandes.
This was the first election of AAP, wherein they scored nearly 4182 votes.
Age and new voters may be the two factors that can be the two reasons for Churchill's defeat.
Churchill is not physically fit to cover every house and has also cut his connection with the younger generation.
On the other hand, AAP has taken a lot of efforts to reach out to the voters, and they have started a systematic campaign in the constituency.
They have started many services during the pandemic and also made a base in the Benaulim constituency.
The votes polled by AAP candidates in the last assembly and the Zilla elections says it all.
Every election, their vote share has increased.
On the other hand, Congress is also eyeing Benaulim, which is bad news for Churchill. If the party contests elections, the votes will get divided between NCP and Congress, which may benefit the other candidate, especially AAP.
But the concern for Congress is that they don't have unity in the party.
Many aspiring candidates want a party ticket. Royla Fernandes, Micky Pacheco and many workers are also eyeing the party ticket. In fact, Micky has declared his candidature for Benaulim; he also said that only he could defeat Alemao in elections.
Moreover, the new entrant Trinamool Congress has roped in Konkani cinema producer and director turned politician Tony Dais (coke).
Sources say he will be the TMC candidate in Benaulim Tony has a good hold in Colva and Seraulim panchayat area, and he has started his work in the constituency.
Salcete never stood with
MLAs who support BJP
History says Salcete has never voted for all those who supported BJP.
In this tenure, Churchill also stood behind CM Pramod Sawant and supported him.
Churchill said, "I have given issue-based support to CM Pramod Sawant and not to BJP party. I have given support to CM for the development of my constituency."
Comment