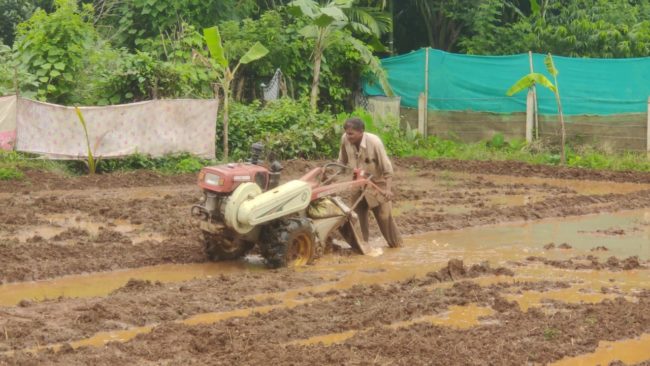 Plantation begins for the first time in Sattari taluka; Black rice is useful for diabetes, weight loss, works as an antioxidant
Sold @Rs 600 per kg in the market.
Goemkarponn desk
VALPOI:
In recent times, experimentation of different types of cultivation has been successful in Sattari taluka.
We have seen strawberry cultivation at Satare, red and white okra cultivation.
Besides, large scale okra cultivation at Kumthol has been a success at different levels.
Now there is another first in Sattari, Black paddy cultivation is gaining momentum.
For the first time, in the agricultural history of Sattari taluka, after the liberation of Goa, the cultivation of black rice has started.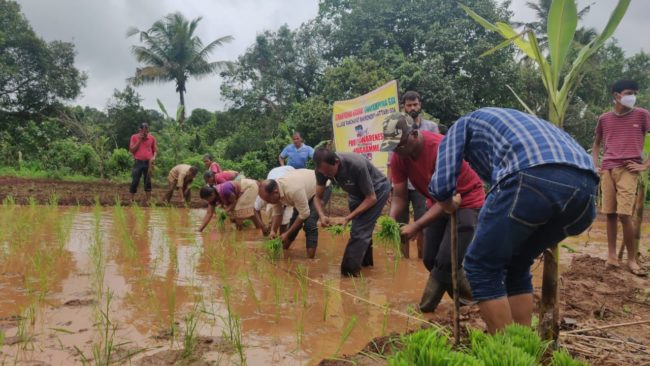 Experts say farmers will cultivate black paddy in about two thousand square meters of land and has already begun from Advai area of ​​Bhironda Panchayat jurisdiction.
The assistant officers of ZAO Valpoi are directly assisting the cultivation of black paddy, which is being taken up on the initiative of former sarpanch Udaysingh Rane.
"Black rice is in high demand in the market as it is essential for diabetes, weight loss and Fe content. We will encourage the cultivation of this paddy through the Goa government's Agriculture Department soon," agriculture officials said.
Briefing about the same Sameer Gavas, Assistant Agriculture Officer, said, this year Black paddy will be cultivated in an area of ​​2,000 square meters in Sattari taluka. Once the largest producer of paddy had a distinct identity.
However, due to the increasing destruction by wild animals, today, the paddy land has been converted into cashew cultivation, he lamented.
"As a result, paddy production in Sattari taluka was on the verge of extinction. Attempts to cultivate black paddy in Sattari taluka this year are now slowly succeeding," he said.
Information reveals one thousand square meters will be cultivated in the land of Udaysingh Rane in Advai Sattari and one thousand square meters in the land of a villager in Naneli.
Udaysingh Rane said that due to the cultivation of a new method of paddy. He said they have also decided to experiment in this regard. According to Agriculture officials, the cultivation of black rice is very beneficial for the farmers.
This is because of the 25 types of diabetic weight loss antioxidant benefits.
He explained that it is essential to promote this crop in the future.
Sameer Gavas, ZAO, further said that the production of this paddy is ready after 90 days.
"The height of this paddy is almost up to the waist. Last year, the paddy was cultivated in different parts of Goa in Vaingan (traditional planting paddy), which has received good results," he said.
He said that the rice seeds were first brought from Ratnagiri area.
"The paddy was produced at Naneli last year. The government has purchased the paddy seeds from the farmer at the rate of Rs. 300 per kg .
About 350 kg of paddy is expected to be produced in an area of ​​1000 square meters," he said.
In a market like Mumbai, the price is around Rs 500 to Rs 600 per kg, which can significantly benefit farmers.
He said that the Agriculture Department would do its best to ensure that Goa produces a large quantity of this variety shortly and benefits the farmers financially.
Comment