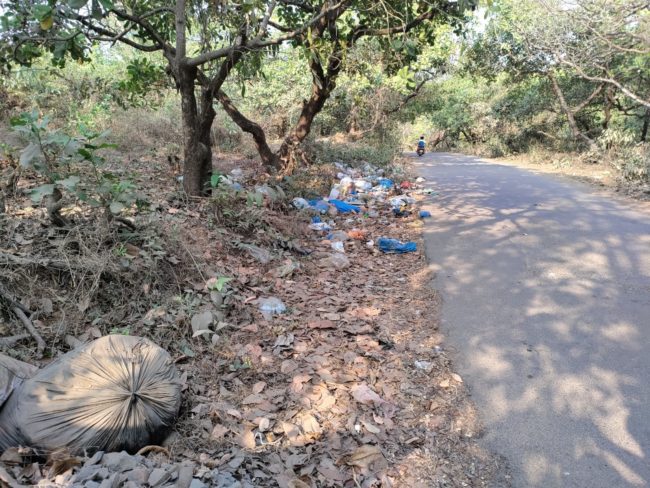 Goemkarponn desk
CANACONA: Black spots reappear with unscrupulous elements, dumping waste and garbage on the road leading to Agonda village.
The bypass road connecting NH-66 at the foot of Karmalghat (Gulem) at one end and Agonda road at Dumane-Keri is covered with garbage dumps at three different places.
Agonda Sarpanch Badal Naikgaunkar blamed local residents who rent out their premises without making provisions for depositing day-to-day generated wastes. 'People who have rented out their premises on a long-term basis needs to provide or make available collection bins at the premises. These people do not keep their day-to-day generated waste outside to enable the panchayat engaged personnel to collect it, and these very same people (staying on a long-term rental basis) resort to carrying their garbage and dump on roadsides', Naik Gaunkar said.
Sarpanch further informed panchayat will engage additional hands to clear the garbage-strewn at Agonda By-pass road at Keri-Gulem section, besides the one strewn along the Agonda road.
Being located in a secluded/forest area, this road was previously heavily infested with garbage thrown on the entire stretch emanating stench all around. After the initial initiative of NGO Goenkar, Agonda panchayat took in their stride to clean the road and put up warning signs threatening action against anyone found throwing garbage/waste at the site. However, this had kept the unknown unscrupulous elements away from dumping anything on the road for some time, only to resume the practice beginning commencement of tourism activities on the Canacona coast.
'Some unknown miscreants have even destroyed the warning board put up on this road. But, if anybody is found dumping or transporting garbage on their vehicles at any time, the concerned will be taken to task', warned Naik Gaunkar.
People, however, suspect some of the non-locals engaged in operating Tourism activities on Agonda and Palolem shore, besides a few locals themselves, are involved in this practice of dumping their wastes on roadsides taking advantage of darkness mostly in late-night hours.
A few undertaking Tourism trades on Palolem and Agonda beaches had also been caught previously while shifting their wastes on scooters and Cars and suitably reprimanded.
Naik Gaunkar further stating Shacks have no reason or justification for throwing garbage out in the open, said 'I do not think Shack operators dump garbage on the roads as panchayat is collecting garbage from each and every shack at least on Agonda shore',
Incidentally, while Canacona municipality garbage compactors regularly collect garbage and waste accumulated in the waste bins, Agonda panchayat has also engaged people to carry out regular garbage collections from the coast and residential areas.
However, residents called on the Agonda panchayat to resume cleaning the roadsides every fortnight to maintain the cleanliness of the surroundings and environment.
Comment