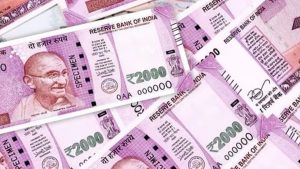 Goemkarponn
PANAJI: The deadline for depositing or exchanging Rs 2,000 currency notes has expired with the Reserve Bank of India concluding the acceptance of these high-value banknotes on September 30.
Today, September 30, was the last day for submitting/exchanging Rs 2,000 currency notes.
Individuals were advised to deposit Rs 2000 bank note into a bank account or exchange it for a different denomination of banknote at any bank location.
Deposits into bank accounts can be madel normally, that is, without limits and in accordance with current directives and other relevant RBI guidelines.
On 19 May, RBI removed the ₹2000 notes from circulation and gave nearly four months to deposit or exchange the notes. The last date given by RBI to exchange or deposit these notes was 30 September which is today.
If it is still pending, individuals still have today's time as Banks will remain open today due to 5th Saturday.
They can go to their nearest bank branch and get the ₹2000 notes exchanged or deposit. They can exchange or deposit their ₹2,000 notes in bank branches and regional branches of RBI.
A non-account holder can also exchange ₹2000 banknotes up to a limit of ₹20,000 at a time at any bank branch.
After 30 September, though the notes will continue to remain legal tender, however, they will not be accepted for transaction purposes and can only be exchanged with the RBI.
Earlier on 2 September, RBI had said that as much as 93 percent of ₹2000 banknotes that were in circulation on May 19 have been returned to banks.
Data collected from major banks indicated that out of the total banknotes in ₹2000 denomination received back from circulation, about 87 percent is in the form of deposits while about 13 per cent has been exchanged into other denomination banknotes.
However, a report by Bloomberg also stated that there is still almost 240 billion rupees or $2.9 billion worth of the notes in circulation. While the vast majority of the 3.56 trillion rupees have since been banked, 7 percent of the notes remained in circulation as of September 1, the report stated.
On May 19, the RBI decided to withdraw the ₹2000 denomination banknotes from circulation but said it would continue to remain as legal tender. However, RBI had advised banks to stop issuing such banknotes with immediate effect.
The ₹2000 denomination banknote was introduced in November 2016, primarily to meet the currency requirement of the economy in an expeditious manner after the withdrawal of the legal tender status of all ₹500 & ₹1000 banknotes in circulation at that time.
The RBI has said that Rs 2,000 currency notes will remain legal tender even after September 30. According to the RBI's Frequently Asked Questions (FAQs), after today, the notes can only be exchanged with the RBI.
The RBI has said that a non-account holder could also exchange the banknotes up to a limit of Rs 20,000 at a time at any bank branch.
Comment