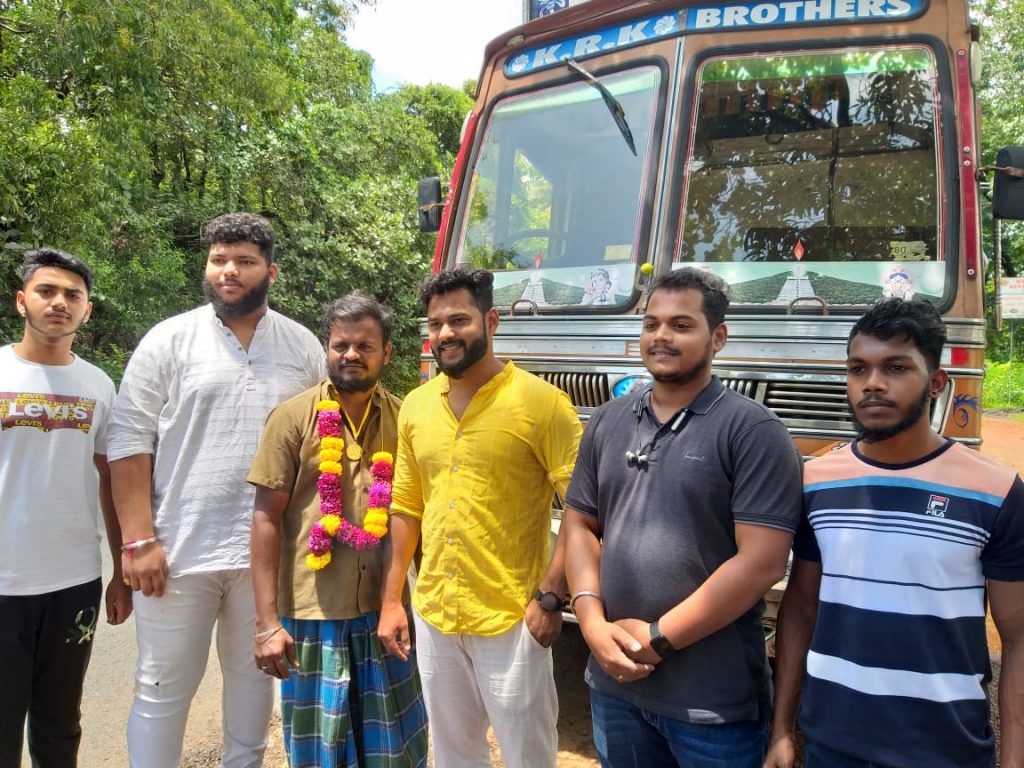 Goemkarponn desk
CANACONA – In an Innovative protest to highlight the Governments inefficiency in taking up road widening works at the accident-prone Karmalghat section of NH-66 road, Canacona Youth Congress held a half-day drive to honour the Heavy Vehicles Drivers for successfully manoeuvring the dangerous ghat section of NH-66.
In almost a half-day protest, Canacona Youth Congress activists led by its president Vaishnav Pednekar stopped each and every passing heavy vehicles/Lorry-trucks, Tankers, Carrier-Containers and others are the foot of Karmalghat (on Canacona side) and honoured/felicitated the Driver by presenting him with a Medal and Flower Garland. The driver is congratulated for successfully manoeuvring and reaching down the treacherous/dangerous and accident-prone narrow Karmalghat slope without falling prey to the accident/mishap victim. The surprised Drivers' were asked how it feels to be safely driving down the ghat section when many others (sometimes 2-3 vehicles in a day) fail to reach down but fall somewhere in-between the slope. A few of the drivers were heard complaining it's really very challenging to drive at this Goa section of NH-66, and government should take immediate measures to widen this Road.
The activists congratulated the Drivers for passing this hardest test and garlanded them with a Medal and Flower Garland. The protest, which began in the morning time continued till the afternoon.
Congress Youth activist/Youth Congress (South) General Secretary Cleston Viegas stated that the people of Canacona are hearing about 4/6 laning of Road here for years now and asked the local youths to join the innovative protest to open the eyes of the government for providing immediate relief by Widening the existing narrow Road.
"It is immaterial for the motorists if 4 or 6 land road is made or a Tunnel is constructed. We are hearing about this planning of 4 & 6 Lane Road beside the tunnel at the Karmalghat section for years now; what government needs to understand specific is present more and more mishaps/accidents are taking place on the narrow Road, and government should take steps to widen the existing narrow Karmalghat section Road to give relief to motorists at this section." Clouston Viegas.
Comment