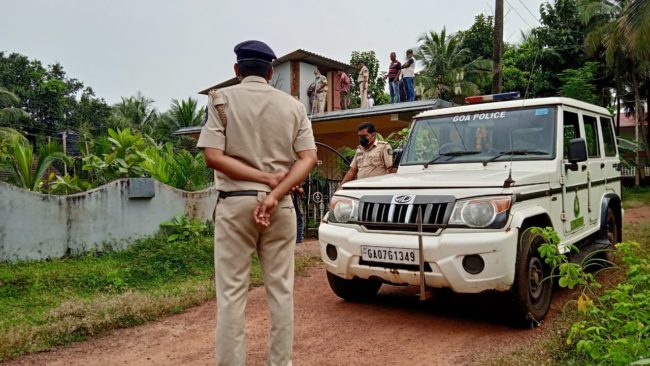 Ramita Gaonkar/ Goemkarponn
CANACONA: Alfred Perera (45) of Miranwada Karashirmol in Agonda Panchayat area of ​​Canacona taluka shot dead his wife, Sonia Monteiro (30), near the entrance of his house at around 8.30 pm on Saturday.
Canacona police arrived at the scene and conducted a formal inquiry with a team of forensic labs to speed up the investigation.
Alfred Pereira and his wife, Sonia Montero, had a love marriage about 17 years ago. So the two of them thought of finding a place where the taxi business could run smoothly from home and started staying at Miranwada Karashirmol in Agonda. He had built a good house seven years ago.
Perera's wife had been going to Margao for work for the last two months as due to Corona pandemic, the tourism business was down, but her husband did not think it was right for her to go to work.
For the past two months, there had been constant arguments in the house over the issue of whether the wife could go to work.
Few days before the incident, the two had lodged a complaint against each other at the Canacona police station.
How the murder took place…
After the altercation reached a point of no return, Alfred decided to kill his wife and accordingly, he arranged a pistol.
On Saturday, when his wife was returning home from work, he shot her dead.
As soon as she fell, he walked a short distance from the house, met a shopkeeper, and told him that he urgently wanted a two-wheeler.
He took his two-wheeler and went straight to the police station, and surrendered himself.
More questions than answers…
How did the police find out that the pistol Alfred shot his wife? Was it legal or illegal? Where did he get it from? How long has it been with him? If he had that one pistol, how could he have been such a sharpshooter as he shot from the roof? Because it takes much practice to become a sharpshooter. From whom did he get this practice?
Alfred Pereira is known to be a great "casador."
Alfred Pereira is known for his ability to hunt and smuggle wild animals, and he has a habit of killing animals.
On Sunday afternoon, October 17, Canacona police brought Alfred Pereira to the scene and re-created the scene. At this time,
The couple is survived by a four-year-old son and a ten-year-old daughter.
Comment