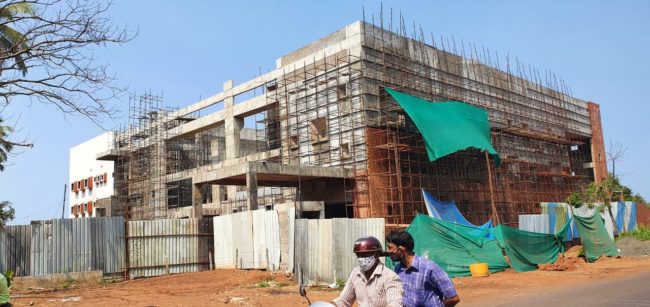 Canacona.
The construction of Ravindra Bhavan in Canacona is going on a snail's pace and inspite of the project being started four years ago the work is not even half complete complain locals from here.
The patience of the culturally rich Cankonkars is running out as the contractor who was awarded the contract to construct the prestigious complex is taking his sweet time and has missed many deadlines.
Anil Bhagat voicing his concern over the long delay in completing the construction and handing over the complex, doubts the ability of the Delhi based contractor as even after four years after the start of work the work is not even half complete, he says.
The work to construct the long pending demand for a well-equipped auditorium started on 2nd January 2017 and was supposed to finish by 1st January 2019, today its April 2021 and still the work is half unfinished said Bhagat.
"As per the Goa State Infrastructure Development Corporation website the contractor one Krishna Builders from Delhi is awarded the contract for construction of Canacona Ravindra Bhavan for Rs 59.28 crores and the completion date is January 2019, on what basis the contractor is given extension of completion date we fail to understand, says Bhagat.
The project comprises of an auditorium with 800 seating capacity, Rehearsal Hall, Art Gallery, Classrooms for Music Drama and Dance, Dormitories for visiting artists, Cafeteria, Administrative offices, Related Supporting Services and Utilities and will be a boon to the artists of the taluka as they eagerly wait for the completion of the project.
When this correspondent visited the construction site of the auditorium which is opposite to Chaudi church it was seen that only the structure is completed and the finishing is not even started throwing doubts in the mind the ability of the contractor to handle such jobs.
When this correspondent called the telephone, numbers provided by the GSIDC on their websites, apart from the recorded message no reply was forthcoming.
Comment