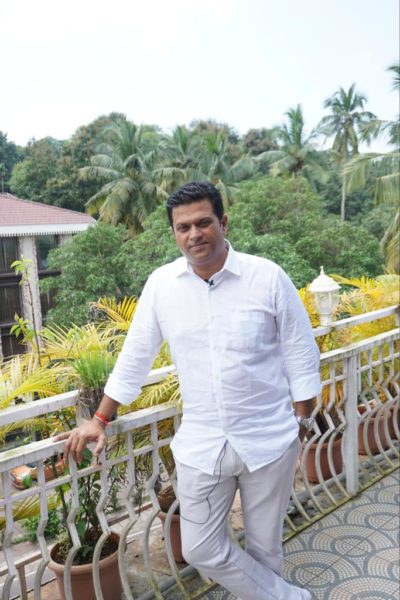 We couldn't see what was happening sitting on the fence: Salgaocar
With Goa now getting into the election groove, leaders are changing parties, holding negotiations etc. However, the advent of new parties like TMC and AAP in the run-up to 2022 has given a different flavour altogether. SURAJ NANDREKAR meets the young MLA from Siolim Jayesh Salgaocar, the former Minister for Ports and RDA, to discuss his plans, rumours about him switching sides and the impact the non-Goan party like TMC could have on the regional outfits.
Excerpts:
Welcome, Jayeshbab…
Goemkarponn: As we approach the elections 2022, we see several new parties mushrooming, regional and outside Goa. What is your view about the new parties throwing their towel in Goan politics?.
Jayesh Salgaocar: During elections, we have seen many parties coming down to Goa, reputed parties, and people who are not known to Goa. I think your pointed question was towards Trinamool Congress. TMC was there earlier also in Goa. Dr Wilfred D'Sa contested in 2007 from Aldona. Many other candidates also contested on TMC thereafter. But TMC presence was there only during the election; after that, there was no TMC. Then suddenly, on the eve of the 2022 election, they seem interested in contesting in Goa.
Goemakrponn: But they have come with a bang, aren't they?. They have taken one of the most experienced political leaders. Also, with the election experts like the I-PAC team in Goa helping them, do you think TMC will impact regional parties?
Jayesh Salgaocar: I-PAC has a very good reputation. If you go to see during Gujarat elections or parliamentary elections, they have helped Narendra Modiji. Then in Punjab, we saw them helping Congress and the party forming the government in that State, then in Bengal, we saw them working with Mamata Banerjee, and she won with an absolute majority. I-PAC head Prashant Kishore had said that if Mamata doesn't come to power, he will quit politics. He has proved a point there, and he means business with this kind of reputation when he is coming down to Goa. The I-PAC is out recruiting people going door to door, Interviewing prominent people getting a sense pulse of the Goan politics. I think they are very serious about Goan politics. But unfortunately, they said they would not form an alliance with any party. If they intend to defeat BJP and form the next government, then all like-minded people and parties should come together and form a formidable Opposition.
Goemkarponn: So when you said that everybody has to come together, what is the stand of Goa Forward on TMC? 
Jayesh Salgaocar: There would be an impact on regional parties to some extent. But again, TMC is a party with a local aspiration. Goa Forward, MGP have Goan sentiments, with Goans emotions. We still have our own agenda. We are looking at doing things we couldn't do before in Goa or have done to some extent. Looking at that TMC, should I feel, get together rather than going alone. Going alone will only help the ruling party come back to power again because it will split votes. Now even Congress is now interested in the alliance. They were not talking about alliance for so long, but now they've realized that alliance is a must. Similarly, everybody should recognize this and come together to form an alliance and form a good front.
Looking at the strong base of BJP, like their village level blocks, leaders, if you want to defeat BJP, I feel everybody should come together.
Goemakpronn: Two prominent sports personalities from your constituency are joining TMC like Lenny D'Gama and Denzil Franco, besides Yatish Naik has also joined them. Is TMC making inroads in your constituency?
Jayesh Salgaocar:  As far as I know, they had approached people who are active socially like, for example, Yatish Naik was there with Congress before, and they wanted somebody who's done some work. Yatish Naik is close to Luizinho Faleiro and Faleiro must have taken him along. Naik was a Congress secret aspirant. So as there are four or five aspirants in Congress to contest on the party ticket Saligao. So Yatish must have seen the opportunity and joined TMC. With regards to Denzil Franco and Lenny D'Gama, these are sportsmen. Yesterday, somebody told me that TMC is approaching all the sports personalities in Goa. They have approached my friend Sagun Kamat, who's a cricketer, also Ranji captain, but he denied being a part of it as he's never been into politics, but they are approaching everybody, and anybody who is into sports, who's in a good profession or somebody has done some social work. So they're trying to recruit people who have done some work.
Goemkarponn: Why are the political parties approaching sportspersons?
Jayesh Salgaocar: This basically happens in South India, wherein film actors are roped into political parties. In North also film actors, sportsmen sports personalities join. We've seen Salman Khan campaigning for Narendra Modi despite having no political involvement, but it is to give confidence and send a message to the people that this personality belongs in a political party's ideology. Or he feels that this party should come to power. Sachin Tendulkar was made a Rajya Sabha member just to send a message that even Sachin is interested in doing public work and prefers to be in our party just to create a very nice image, which is accepted by the sports personalities. It's basically to send a good message about the party. Similarly, Goa's IPL player Shadab Jakati was also part of Goa Forward once.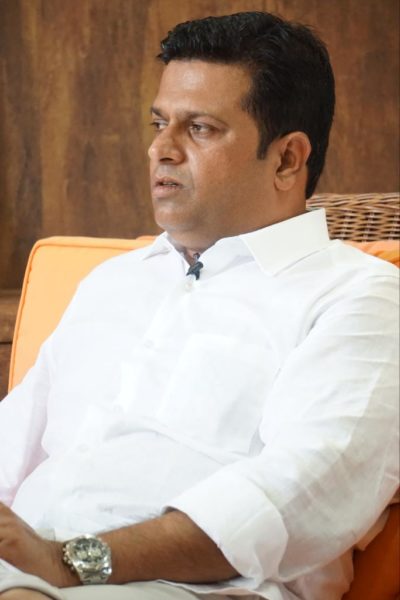 Goemkarponn: There have been rumours around for a year now that Mr Jayesh Salgaocar is joining BJP ahead of elections. How embarrassing is it to answer the same question again and again? Or is it true?
Jayesh Salgaocar: It is like people are also fed up now to listen to this question again and again. People ask me the every time same question. It is more of gossips about how it is sold. It is again and again brought to the media. Earlier it was said I would join BJP; now, the gossip is that I am in touch with Congress. I have not met anybody who is affiliated with Congress, or for that matter, I have not even thought of even joining Congress.
Goemkarponn: People talk that you are often seen at CM's residence at Altinho. Your view?
Jayesh Salgaocar: As an MLA, I have to meet the CM and approve the files. He is the Chief Minister of Goa, so the files go through him. The file is cleared only after CM gives the nod and the works are done in the constituency. Without meeting the concerned minister or the concerned bureaucrats and the chief minister, for that matter, the files are not processed. To process any file, we have to meet the CM. I have managed to give four lakhs to a widow whose husband passed away. So I had to go to CM to ask for support. He was kind enough to grant her money under the CM Relief Fund. If I sit at home, do you think the Chief Minister will dream and come to help my people and me? I have met CM, yes but not the BJP office-bearers. If I had to go and meet the BJP, then there could have been a different thing.
Goemkarponn: After the Goa-Froward forged an alliance with the BJP in 2017, there was a lot of anger amongst the people against you. Will that have any impact on your prospects? Will they pose their trust in you again?
Jayesh Salgaocar: It was a very difficult time to convince people. Some had understood, some have still not understood, but luckily Mr Luzinho Faleiro recently made a statement that in 2017, Congress had made a list of 21 MLAs to meet the Governor and stake claim. The senior Congress leader stopped him from going to Governor's office: In the list of 21, Goa Forward MLAs' names were missing. We were waiting for Congress' call us, but that never happened.
We were left out then. In the list of 21 were – MGP (3), Congress (17) and two independents plus NCP.
Goemakrponn: So Congress wanted to form government in 2017 without Goa Forward?
Jayesh Salgaocar: Yes, Faleiro is on record saying that excluding Goa Forward, they had made a list of more than 21 MLAs. Looking at what was happening in front of our eyes. We could not act as fence-sitters and see what was happening. Suddenly offer came from BJP but there too, we were last to go. I, as MLA, had shown my resentment, but we had no option. Finally, it was not about Jayesh alone or party decisions. Moreover, I could do whatever work was because I was in the government for 2.5 years.
Goemkarponn: But Saligao does not seem to have seen any major development in the last five years?
Jayesh Salgaocar: I have done a lot of work in Saligao. It is not that there is no work. It has seen work that had not happened for 25 years. The problems of water, roads have existed since I was a child. But to a greater extent, I have been able to resolve the issues of electricity, roads; like today, we have constructed roads where there were no roads before. On electricity, we have changed 22 transformers and installed 5 new transformers, and 300 kilometres of conductors have also been changed with 700 new poles. The power fluctuations and load-shedding has stopped. This has happened in just two and half years after several meetings with the ministers. On the water front, we are still suffering as we are at the tail end. Nerul, Pilerne and Reis Magos have serious problems despite 500 tankers being supplied every day. We have initiated some projects, and if they become a reality, the water problem will be solved permanently.
Goemkarponn: Have you been able to bring a big-ticket project for Saligao yet?
Jayesh Salgaocar: We will soon announce a beautiful project, which has happened nowhere in Goa before the Dr Shyama Prasad Mukherjee RURBAN MISSION; under this, the State and Central government will spend Rs 100 cr only for the Saligao constituency. We will have the principal of Architecture College, someone from BITS Pilani and a historian in the team to design this. When I was RDA Minister, I had got this file approved, but now it is taking shape, and with the help of Mr Michael Lobo, we will soon announce this beautiful project for Saligao. The project has employment generation, restoration of old Khazan lands, bandhs. We will have a trail from Saligao to Guirim of historical places, churches, hinterland tourism, heritage tourism, springs, etc., in Saligao. All this will be put on the world map in the coming future. It is called RURBAN MISSION which is allotted to the Saligao constituency.
Comment