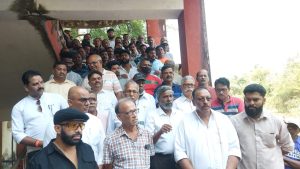 Canacona Mamlatdar interacts with Protestors.
The hunger strike was called off at 1.30 pm after KRC (Traffic) Manager Sunil Nadkar assured a Joint meeting with protestors next week.
Goemkarponn desk
CANACONA: Amidst a strong police presence, Canconcars on Friday morning, along with Senior Citizens and women, began their 'Hunger-Strike to protest the Railways and government's apathy towards Canacona people by not resuming long distances Train Halts at the Canacona KRC Station.
The Hunger strike was called off at 1.30 pm after KRC(Traffic) Manager Sunil Nadkar assured a Joint meeting with protestors next week.

Over 100 protestors, including members of the Forum for Senior Citizens of Canacona, Women and others carrying placards/messages to Halt certain trains reached, at Canacona KRC Station and squatted in front of the KRC Booking Counter.
Police also came and prevented the entry of any of the protestors inside the Railway station Control room, including the cabin of the Station Master and other KRC Staff. The protestors, which kept swelling, also included Two Councillors, Dhiraj Naikgaunkar and Shubham Komarpant, besides CRSBAC Coordinator Janardhan Bhandari, Convenor Shantaji Naikgaunkar, Social activists Ulhas Bhatikar, Natividade De Sa, Dilkush Shet, Anil Bhagat, Babu Komarpant, Ex-CMC Chairperson Rajendra Desai, Shyamsunder Desai, Sandesh Telekar and many other prominent residents of Canacona.
Protestors sang patriotic songs like 'Hum honge kamyab',

Today hunger strike will be a one-day affair from 9 to 5pm, whereas If Railways fails to act by tonight, we have plans to come on the Rails and Road to show our protest, said the protestors at the Site.
Canacona Mamlatdar Manoj Korgaonkar, in the presence of PI Chandrakant Gawas, interacted with protestors, Who assured peaceful agitation.
The protestors, however, told them to only take their peaceful approach for granted if their demands were met.
Mamlatdar assured to call an official of the KRC who during last March has accepted the memorandum to come and meet the protestors and explain the steps he had taken up since then.
Even as the protest continued for days, more and more people, including Tourist Taxi operators and others, joined the protestors.
"Even after sacrificing their land at a low price, agitating, facing police lathi charge/police cases for support of Konkan Railway, a great injustice has been done on Canconkars by the Konkan Railway authorities by cancelling stop/halt of long-distance trains at Canacona. Senior citizens of Canacona and others have communicated this issue with all railway authorities and even informed the State Govt., MP, and local MLA. Even a morcha led to Canacona Railway Station failing to wake railway authorities. It is high time to unite and fight for our legitimate demand," said Bhandari.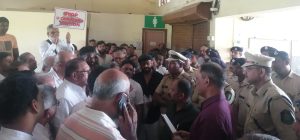 With today's hunger strike, the different forms of agitation have begun, and next form of agitation will be shortly listed if 'Kumbhakarna' fails to wake up from its slumber', Bhandari.
Incidentally, the day-long Hunger strike was cut short after KRC (Traffic) Manager Sunil Nadkar assured that a Joint meeting would be convened along with Railway Officials and protestors next week. 'The date, day, time and place will be intimated to the protestors shortly, informed Nadkar to the protestors, pleading to call off the Hunger strike.
CRSBAC Coordinator Janardhan Bhandari and Convenor Shantaji Naikgaunkar swiftly announced the call-off and suspension of the Hunger strike, threatening to decide and exert more stringent agitation if the train halts and related facilities are not extended to Canconcars.
Comment