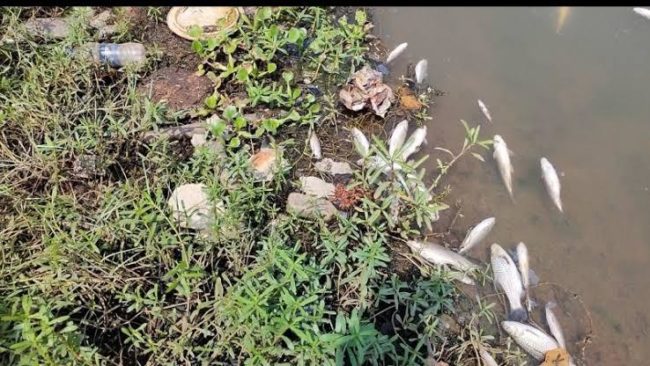 Goemkarponn desk
MAPUSA: The Urban Health Centre Mapusa Health Officer Dr. Cheryl De Souza has called for a joint site inspection on 16th July after the Directorate of Health Services took cognizance of a GOACAN letter on health issues linked to the Tar River.
It may be noted that GOACAN on the occasion of the State Consumer Rights Day 25th June 2021 had in a letter brought to the notice of the UHC Health Officer Mapusa that there have been many media reports about various health issues linked to the Tar River.
From the time dead fish were found floating in the river in March 2021 there have been health concerns about the present situation of the river and this had caused fear & anxiety in the minds of consumers and residents of Mapusa.
GOACAN in its letter had pointed out that while water stagnation had occurred  because of mud & debris in parts of the river, release of wastewater & dumping of garbage had resulted in health & sanitation issues becoming a problem of the Tar River.
"The recent second deadly wave of the COVID-19 pandemic has traumatised people, as many were admitted to hospitals and many also died. At this juncture it was important to assure people that other health problems like vector borne diseases will not emerge due to the present condition of the river if prompt action is taken," the letter further said.
Although the solutions to the problems related to the Tar River are linked to various allied Departments of the Government of Goa, there is always the perception amongst the general public, that the Directorate of Health Services (DHS) through the Urban Health Centre (UHC) must solve all problems by using the Public Health Act 1985 and Rules 1987.
The GOACAN letter also pointed out that early intervention to solve a problem always helps to create confidence in the minds of the consumers and can go a long way to prevent litigation and the filing of complaints by using the Consumer Protection Act 2019 and other related legislation.
Copies of the GOACAN letter were sent to the Secretary Health & Urban Development, Chairman Goa State Pollution Control Board, Directors of Municipal Administration, Science, Fisheries, Technology & Waste Managment, Deputy Directors Public Health & NVBDCP, Chief Engineer WRD, Principal Chief Engineer PWD, Chief Officer Mapusa Municipal Council, Member Secretaries GSUDA & Goa State Biodiversity Board and Assistant Director Civil Supplies & Consumer Affairs.
Comment