Goemkarponn desk
PANAJI: In a direct taunt to the West Bengal Chief Minister Mamata Banerjee, Chief Minister Dr Pramod Sawant said that Goa does not need any outsider to give a "Navi Sakal".
"To save Goan culture and heritage, we do not need outsiders, and the journalists in Goa are strong enough to protect Goa," he said, adding, "TherSakalno need for anyone to give us new sakal (new dawn, We are fit enough."
CM was speaking at the Goa Union of Journalists award for 2018, 2019 and 2020.
He also took a potshot at teh Goa Forward party, saying
"Some people in Goa are so indecisive that they go forward and then come backward as lots of political developments take shape in Goa," he said.
He said that in the last two and half years, he has tried his best.
"I have tried to rectify my mistakes if any, whenever necessary as we believe in democracy," he said.
Sawant also announced that the government will restart the laptop and camera scheme for teh journalists by December 1.
He said the pensions of journalists would be increased by another 1000 rupees from December 1.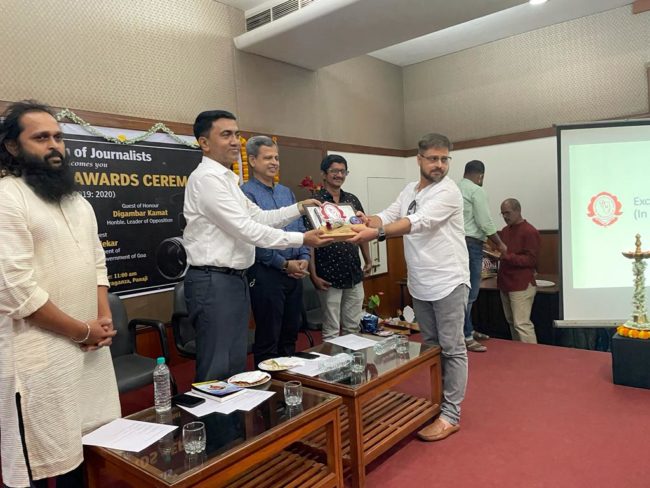 GUJ JOURNALISM AWARDS 2018
Excellence in environmental journalism (In honour of Felicio Cardozo): Abdul Wahab Khan (The Navhind Times) for his report "Air quality worsening in Goa's cities and towns."
Excellence in environmental photography (In honour of Cyril D'Cunha): Narayan Pissurlenkar (The Goan Everyday).
Excellence in investigative journalism (In honour of Lambert Mascarenhas): Gauree Malkarnekar (The Times of India) for her report "A house for Mr Sahni."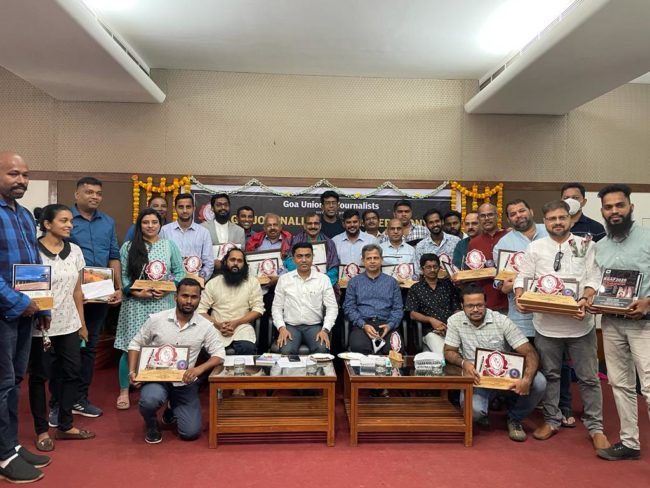 Excellence in photojournalism: None
Excellence in rural journalism (In honour of Suresh Walve): Nirgosh Gaude (The Navhind Times) for his report "73 Anganwadis in Ponda have no toilets."
GUJ JOURNALISM AWARDS 2019
Excellence in environmental journalism (In honour of Felicio Cardozo): Gerard de Souza (Hindustan Times) for his report "Coal particles contaminating Mandovi."
Excellence in environmental photography (In honour of Cyril D'Cunha): Ganesh Shetkar (Lokmat)
Excellence in investigative journalism (In honour of Lambert Mascarenhas): Newton Sequeira (The Times of India) for his report "Ghost industrial estates."
Excellence in photojournalism: Ganesh Shetkar (Lokmat).
Excellence in rural journalism (In honour of Suresh Walve): Suraj Nandrekar (Herald) for his report "Sordid tale of Tuem Ind Estate."
Excellence in art and culture journalism: Marcus Mergulhao (The Times of India) for his report "Pensao: Inheriting a legacy of praying for unknown property bequeathers."
Excellence in cartooning: None
Excellence in crime journalism (In honour of Audumber Shinde): Gerard de Souza (Hindustan Times) for his report "How a pair of orange slippers led to the accused's conviction in Scarlett Keeling case."
Excellence in layout and page design: Sharmila Coutinho (The Times of India)
Excellence in sports journalism: Anant Bakhale (Herald) for his report "A game of U-turns."
Excellence in TV/ digital journalism: Vishwanath Nene (Prudent) for his report on Mhadei.
Excellence in video journalism: None
GUJ JOURNALISM AWARDS 2020
Excellence in environmental journalism (In honour of Felicio Cardozo): Suraj Nandrekar (Herald) for his report "Revenge or cover-up?"
Excellence in environmental photography (In honour of Cyril Dcunha): Rakesh Mundye (The Times of India).
Excellence in investigative journalism (In honour of Lambert Mascarenhas): Suraj Nandrekar (Herald) for his report "The Unsung Heroes Goa has failed to thank."
Excellence in photojournalism: Upendra Naik Goa Times (TOI)
Excellence in rural journalism (In honour of Suresh Walve): Alfred Fernandes (Herald) for his report "With each crushing season, hopes of Sanguem cane farmers get further crushed."
Excellence in art and culture journalism: None
Excellence in cartooning: Sharmila Coutinho (The Times of India).
Excellence in crime journalism (In honour of Audumber Shinde): Prasad Shet Kankonkar (Goan Varta) for his report "सावध रहा! समजून चर्या फसवणूकीचे फंडे."
Excellence in layout and page design: Manoj Shirodkar (Herald).
Excellence in sports journalism: Marcus Mergulhao (The Times of India) for his report "Match-fixing in Goan football: Beautiful game shows its ugly side."
Excellence in TV/ digital journalism: Omkar Falari & Tukaram Marathe (Prudent) for their report on "Mhadei diversion."
Excellence in video journalism: None
Comment