DRUGS TRANSPORTED FROM 
HP IN APPLE CRATES
AS OF NOW, BALMURUGAN SEEM TO BE THE KINGPIN WHO SUPPLIED DRUGS TO GOA
PSYCHEDELIC MUSIC PLAYED IN SHACKS TO ENTERTAIN DRUG ADDICTS
DRUGS CHEAPER IN GOA, COMPARED TO HYDERABAD"
SURAJ NANDREKAR & 
ROZARIO ESTIBEIRO
Purani Haveli (Charminar, Hyderabad):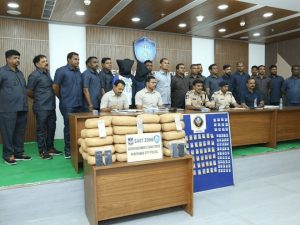 The investigations into the drug trade in Goa continued to get murkier with every passing day. After the Hyderabad City Police Commissioner CV Anand squarely blamed the Goa Police for the flourishing drug trade in the coastal belt, a further probe has revealed that the Goa Police has been supportive of the illicit trade.
It took the Hyderabad Police to come all the way from Telangana, covering around 800 km, to catch hold of Edwin Nunes of Curlies, Steve Peter D'Souza of Hilltop, Pritesh Borkar and Bal Murugan.
Pritesh Started Giving Leads…
Deputy Commissioner of Police (Narcotics Task Force- HNEW) G Chakravarthy, IPS, feels Bal Murugan is the Kingpin everyone was looking for as he seems to be the main guy smuggling and supplying drugs in Goa to Edwin, Steve and Pritesh.
"This was initially confessed to us when we arrested Pritesh Borkar. He told us he got drugs from Edwin and Steve, and they were getting it from Bal Murugan," said Chakravarthy.
He said Pritesh supplied synthetic drugs like MDMA, Ecstacy Pills, LSD, and Cocaine from Goa.
He had around 600 contacts for supplying, including Hyderabad and elsewhere, and people started giving him a reference.
"He may have many more contacts across the country. His prime supply contacts in Hyderabad were around 160-170," Chakravarthy informed.
Probed further about how they nabbed the guys in Goa when the Goa Police did not even dare to touch them, he said, "it is all about commitment to cleanse your state. We were determined, and as we started getting clues, we continued to act.
Drugs Business in Goa…
As per Chakravarthy, most of the youth go for Holidays in Goa, and there at the shacks and resorts lot of people approach and offer them girls and drugs.
"Every traveller, If they don't do these things, they at least have developed contacts. I can easily say every shack operating in Anjuna, Vagator line has the contacts where they offer and provide drugs and girls to youth," he said.
The second kind of people is the people who want to make money out of these illicit trades.
"So they go to Goa, buy in excess, consume some, bring back remaining and sell to their friends or contacts. They travel by trains and buses, and flights are rare. This is a very feasible option as in Goa drugs are very cheap If MDMA is Rs 1500 in Goa, it costs Rs 5000 in Hyderabad," he said.
The investigating officer further disclosed that Shacks like Curlies, Shiva Valley and Hilltop provided a platform for paddlers to sell drugs.
"All this happened in, we believe, was in a collision between shacks, paddlers and the local police. Otherwise, such business on such a large scale cannot go on unchecked," he said.
Psychedelic Music…
The ambience and set-up at the shacks provide a condusive environment for youth to take drugs.
"The shacks like Curlies Shiva Valley and Hilltop and many others played Psychedelic music, also known as Psy-Trans, that gels well with narcotics substances when the consumer is hallucinating," he said.
Transportation & Smuggling
As per the Hyderabad Police investigation, officer Bal Murugan was getting Malana Cream from Himachal Pradesh in Apple crates and supplying it to his close friend Edwin Nunes. This has been confessed by the accused.
Pritesh Borkar was getting MDMA, Ecstacy Pills, here in Hyderabad. He sometimes supplies personally through his personal vehicle or buses.
Often, these suppliers send drugs in bus parcels and follow the buses in their personal vehicles.
Four Accused Still At Large
While the Hyderabad Narcotics Enforcement Wing (HNEW) has arrested four, it is on the lookout for four more accused – Sanjay Govekar, Tukaram Salgaonkar alias Nanu Vikas Naik alias Vicky and Ramesh Chauhan. All four are still absconding.
"We ourselves are also monitoring their movements. But these four are small-time paddlers and will be arrested soon," said Chakravarthy.
Targetting Consumers…To Break Chain
Unlike Goa Government, which believes tourism could be hurt if stringent action is initiated, Hyderabad Police started targeting consumers and cutting the demand.
"We have arrested around 100 consumers and sent them for rehabilitation. For now, we have broken the network of suppliers and consumers. We are currently looking at the network from Mumbai, Pune and Vishakapatnam gangs, which are also supplying drugs in Hyderabad," he said.
Asked why the drugs were not detected at check posts and borders, he said it is very difficult to catch hold of a small quantity of drugs as they can be easily hidden in wallets and undergarments.
Why Preventive Detention Act?
Chakravarthy said the PD Act is used against habitual criminals.
"It will bring a lot of deterrence if the trial is completed. It has up to 20 years in prison or the death penalty also. We are waiting for all to be arrested and then file a chargesheet," he said.
Comment