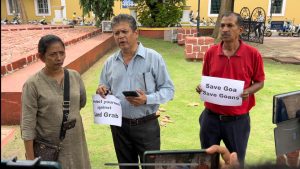 Goemkarponn desk
PANAJI: Goan origin Cedric Miranda, who hails from Santa Cruz, was shocked to find upon return to Goa that his ancestral house has been occupied by some unknown, unfamiliar persons who told him that his house that belonged to his family for generations
In a complaint filed before the Old Goa Police station, Miranda who arrived in Goa with his aged parents around five days ago alleged that former Santa Cruz sarpanch Mariano de Araujo and his wife Mrs Olga both r/o Cabesa Santa Cruz, Goa "for criminally trespassing in our property, breaking open the lock and renting the same to some ladies."
"I along with my family members are the lawful owners and in possession of a property in Survey No. Sub Division No-2 of Calapor Village along with a house standing on the said property bearing H. No. 400/A situated at Cabesa, Santa Cruz, Tiswadi-Goa.
"About 5 days back I along with my family members came down to Goa and upon visiting the above-mentioned property we were shocked to notice that some ladies are residing in the said house upon questioning one lady she disclosed her name as Usha and further she informed that Marat (Mariano de Araujo) is the owner of the house and pointed out the house where Marat is residing i.e opposite to our property and further she also told us that Mariano de Araujo @Marat and his wife Olga have rented the said house to them without any legal papers," he said.
I say that I know Mr. Mariano de Araujo who is also known as Marat and his wife Olga who are my neighbours and they are residing opposite our property.
Miranda has sought to restore the possession of his house, eviction of the illegal occupants and action against the former sarpanch for trespassing at his house.
"I understand he was giving my house on rent for many years and when I approached him he offered to settle with me," Miranda said.
Comment