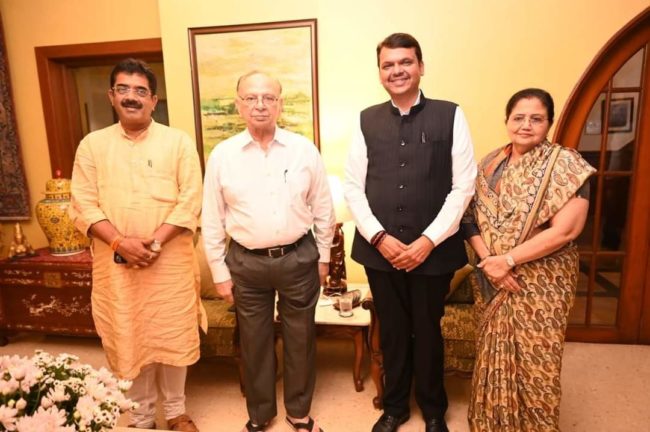 QUESTIONS GALORE…
Did Fadnavis offer Rane of being appointed Governor?
Who will be the next candidate from Poriem?
Will Vishwajit give a chance to his wife Divya or mother Vijayadevi Rane?
Goemkarponn desk
VALPOI:
As the elections approach, political activities have gained momentum in the State, with several top leaders descending in Goa for the alliance, candidate selections, etc.
BJP's Goa in-charge and former Maharashtra CM Devendra Fadnavis was in Goa to meet with workers, leaders etc.
ON Tuesday, he shocked everyone by meeting former chief minister Pratapsing Raoji Rane at his residence in Bicholim Kulan.
The meeting between Rane-Fadnavis has been teh talk of the town.
The question in the minds of many people is that will Rane finally call, he quits? People believe at this age, Rane would never quit Congress and join BJP.
It is learned that Devendra Fadnavis and Goa BJP state president Sadanand Shet Tanawade met Pratap Singh Rane at Kulan and had a long discussion with him.
People now suggest the development could change the political equations in the State.
IT is being said that Rane, who has been in active politics of Sattari for over 50 years, will now quit and has been promised to be appointed a Governor of some state.
Pratapsing Rane represents the Poriem constituency in the Goa Legislative Assembly. He has also been teh longest-serving chief minister of Goa.
Now the question arises, if Rane quits, who would be the next candidate from Poriem?
Earlier, news reports said that Rane's son and Health Minister Vishwajit Rane would contest from Poriem, and his wife Divya would contest from Valpoi.
Rane has already begun projecting his wife as a candidate, and she has attending many political meetings.
The BJP had earlier announced that two tickets in a family would not be granted, but at the press conference addressed by Devendra Fadnavis, he made a statement that in exceptional cases, this could be allowed.
People now believe that Sattari could be an exception for grating two tickets.
Another important development which is now come to teh fore is Pratapsing Rane's wife Vijayadevi Rane has also shown interest in contesting the forthcoming polls from Sattari.
Now the question arises, who will Vishwajit Rane field, his wife Divya or mother Vijayadevi Rane?
Comment