Dhiraj Harmalkar/ Goemkrponn desk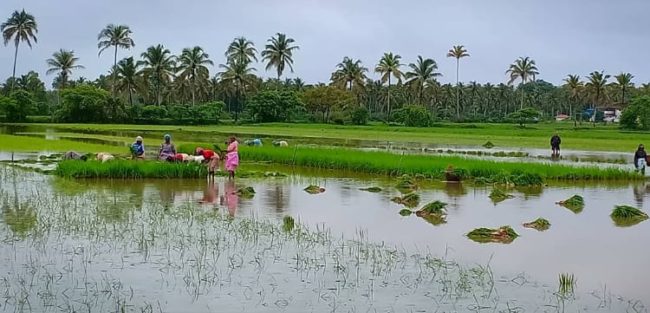 VASCO: The wait is "over" at last; Zonal Agriculture Office in Mormugao will be opened in June 2022, informed the Director of Agriculture. Farmers and Agricultural enthusiasts from Mormugao taluka get full support and guidance from this office.
Mormugao taluka, which houses most of the essential establishments and the commercial entities, will also have its own Zonal Agriculture Office, which will pull up the agricultural activities and the local farmers in Mormugao.
When contacted the Director of Agriculture Nevil Alphonso, he said they were supposed to set up this ZAO in Mormugao in February but due to some technical issues such as staff allotment, identification of the premises, and other documentation process got, this work delayed. Right now, we have identified multiple premises to set up ZAO, and in first week of June, we will open ZAO in Mormugao," ihe added.
Few villages such as Cortalim, Nagoa, Verna, Sancoale, Cansaulim, Velsao, Chicalim, Bogmalo, etc have areas which are being cultivated by the local farmers, which usually have to go to Margao ZAO to take any schemes and benefits for farmers.
Farmers from the Mestawado-Maimollem area, too, are eagerly waiting to see the "Acche din" in Mormugao and the Agriculture. Farmers deeply felt that government should help them in guiding and encouraging them to take up Agriculture.
Vasco MLA Krishna (Daji) Salkar, who had remained as a patron and a helping hand to these 40 odd numbers of farmers from Vasco. Salkar had told a reporter that there is a small area for agricultural activities left in Vasco, and there is a need to protect it and encourage the farmers to do agrarian activities there; otherwise, it will turn into barren land.
Salkar has been providing tractors and a harvester to these farmers every year, which is helpful to them. When questioned recently about the dedicated Zonal Agriculture Office (ZAO), which is needed in Mormugao, Salkar had informed that when he was a councilor, a resolution was taken to bring ZAO into Mormugao. It was sent to the Agriculture department. "Now that I am an MLA, I will surely going to do follow up about this project and will get it done as soon as possible for these farmers," Salkar had said.
Two years back, Chicalim Youth Farmers Club president Valerie Afonso also wrote to the Agriculture department asking to have a dedicated Zonal Agriculture Office in Mormugao. She, in her letter, had stated the hardships that the local farmers are facing in the absence of such office.
Comment