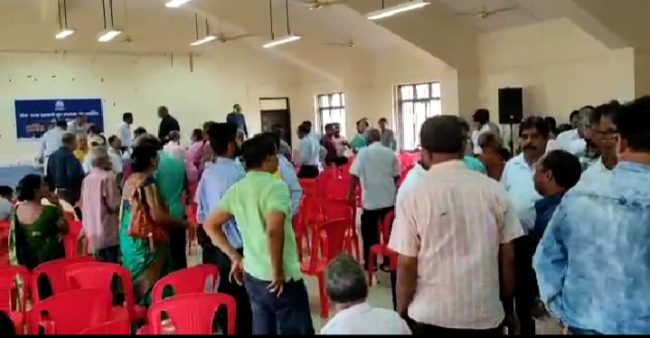 Goemkaponn desk
PONDA: Following chaos and controversies at the start of meeting with AGM members, claims that the Goa Dairy AGM convened today by Kashi Naik, Officer on Special Duty (OSD) of Goa Dairy, was illegal was cancelled and postponed for next month.
Members (farmers supplying milk to Goa Dairy) of AGM claimed that there is no provision in the bye-laws of Goa Dairy to appoint OSD to perform the role of MD, and therefore the meeting is illegal.
It may be recalled that the three-member Administrative Committee had recently appointed OSD Kashi Naik. Following the demand by AGM members, Goa Dairy's three-member Administrative Committee cancelled the meeting without holding any discussions on the agenda and postponed it for next month.
Former Goa Dairy Chairman Anup Desai speaking to the media, said the OSD appointed on Goa Dairy temporarily was given the charge of Managing Director(MD).
"This OSD had given the notice of AGM. Accordingly, today we attended the meeting and at the start of the meeting pointed out there is no provision for appointing OSD in by laws of Goa Dairy, and so the AGM convened by him is illegal. Following this, the Administrator of Goa Dairy cancelled and postponed the meeting for next month," he said.
Desai said that either the Administrator of Goa Dairy or the RCS should convene the meeting for its validity.
"The AGM members even said that Government should appoint regular MD so that Goa Dairy affairs are handled smoothly, and even he can convey AGM legally," he stated.
Anup Desai also said earlier that AGM had not approved the accounts (audit report) for the years 2019-20.
"We were asking Goa Dairy officials to conduct an audit of 2019-20 at the hands of Government specified auditors. However, the Administrator failed to fulfil our demand. Instead, they went further and even tried to present an audit report for years 2020-21. When previous audit reports are not approved, how the AGM will accept the latest?" Questioned Anup Desai.
While on the other hand, some AGM members even alleged that some members don't want AGM to be held for their vested interest, and so they oppose AGM every year.
Meanwhile, Goa Dairy Former Administrator Durgesh Shirodkar on the other hand, claimed that though Goa Dairy meeting cancelled and postponed the financial statement which was prepared to present before AGM shows clearly the profit of Rs 3.90 crore for the financial year 2020-21.
Durgesh Shirodkar, who was removed in January this year from his post, said when he was Administrator, he had repeatedly claimed a profit of Rs 3.75 crore earned for years 2020-21 and even disbursed Rs 1.5 crore out of it to farmers as a benefit of profit.
"Today, my claim proved with Financial Statement of Goa Dairy showing a profit of Rs 3.90 crore for the said year," he said.
Comment