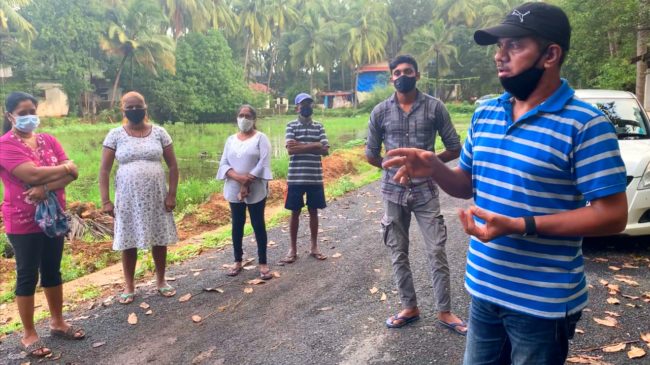 Goemkarponn desk
CANACONA::
Farmers and locals of Galgibagha village are irked over water stagnation in their fields after both the PWD Highways and the contractor blocked the drains while constructing the four-lane bypass road that was otherwise used to drain the excess rainwater in the adjacent river.
Many farmers owning fields beside the newly constructed four lanes Manohar Parrikar Seaside link in Galgibagha say that they can't till their land as the fields lay inundated with more than knee-deep water even after the monsoon gets over.
Speaking to Goemkarponn Arun Bhandari, who lives about a hundred metres from the Manohar Parrikar Seaside link in Galgibagha, lamented that the issue was brought to the notice of the PWD Highway officials and the contractor they didn't do anything, and now they are made to suffer.
The contractor didn't provide drainage for the fields on the western side of the road, leading to the accumulation of water; the entire field is now turned into a huge lake of stagnant water and a perfect ground for mosquitoes breeding Bhandari complained.
The contractor got his payment, the PWD Highway officials got their salaries. Still, the locals are suffering for no fault of theirs, he added.
On close inspection, the water has turned green due to excessive growth of algae, which has started decaying, emanating foul smell in the village.
Many villagers came forward to bring to the notice of this correspondent that this water logging has submerged a playing ground used by local youth to play football and cricket.
Another elderly person from the village said that the fields are very fertile. They used to cultivate rice since time immemorial, and now for the last few years, they can't even enter the fields as there is too much water.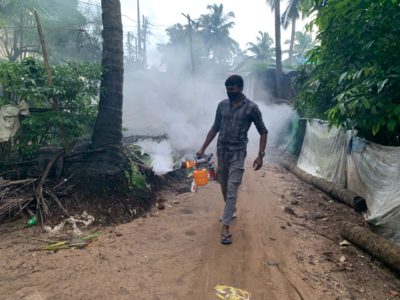 He blamed both the PWD Highway officials and the contractor for the mess left behind after the bypass road was inaugurated in November 2019.
The entire village is suffering for no fault of theirs. The farmers can't enter their fields. The youth are without a ground to play, and the mosquitoes are creating havoc in the village, he added.
Meanwhile, on being informed by Prashant Pagi and Sanjam Nautique of Revolutionary Goans after being advised of the possibility of an outbreak of vector-borne diseases in the village, undertook to fog in and around the town.
Comment