Garbage-spill continues from Karnataka bound trucks on MPCBR at Loliem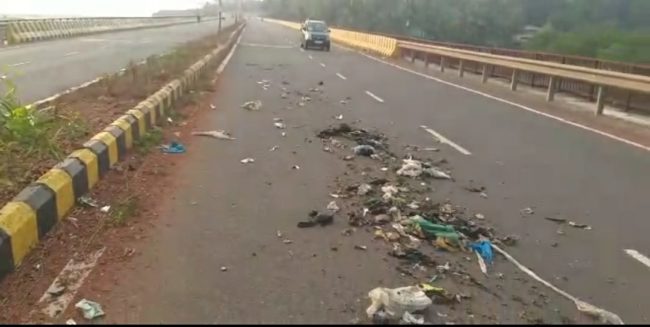 Goemkarponn desk
CANACONA: The garbage menace on the road once again hits Canacona as waste falls from a truck bound to Karnataka beginning Manohar Parrikar Canacona Bypass Road (MPCBR) in Loliem village.
After huge trails of wastes on the road were noticed, some worried residents, including ex-sarpanch and Loliem-Polem panch Nishant Prabhudessai followed the Truck and stopped it a Polem.
Along with Loliem-Polem Sarpanch Sachin Naik, residents informed the police who detained the truck for further action.
According to sources, the truck bearing registration no. KA-22 D-6548) carrying a garbage load from Mapusa was heading towards Karnataka. The driver informed due to the heavy bumps on the MPCBR, the nylon rope tied to the tarpaulin covering the Garbage got loosened and began to fall down, and he became aware of it only after the villagers stopped him at Polem.
The dry-waste (garbage) load, some of which was processed (bailed), is transported from Mapusa to Lokhapur (Karnataka).
Loliem-Polem Sarpanch Sachin Naik has demanded that the authorities not allow Garbage transportation haphazardly and instead make it mandatory to transport Garbage in a container type of vehicle.
"Our villagers had to bear the brunt of Garbage falling on the road incessantly emanating foul smell and vitiating the atmosphere in the village. There is also a danger of other motorists, especially wheeler riders falling prey to accidents if the Garbage from moving trucks falls on them. They are endangering the lives of other motorists as well," he said.
Residents informed the garbage smell has almost engrossed the highway affecting neighbouring residents some claiming through the Garbage is dry waste, it is at least six months old trash emanating unbearable stench all around.
Comment