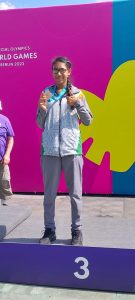 Goemkarponn Desk
BERLIN (Germany): Gayban Mulla handed Goa its seventh medal at the ongoing 2023 Special Olympics Summer Games in Berlin.
The 20-year-old Mulla, a student of the Sanjay Centre for Special Education, Curchorem, bagged the bronze medal in the Mini Javelin Level C at the track and field competition being held at the Hanns-Braun Stadium.
The Goan girl's throw of 9.36 metres was enough to see her finish third best behind the UAE's Asma Abdullah (9.9 metres) and Romanian Gabriela Mertescu (9.57 metres).
Mulla started serious training in 2016 after showing a lot of promise in track and field events while studying at the Sanjay Centre for Special Education in Curchorem. That proved to be a turning point for the young girl as she not only improved on her social skills and confidence levels, but also started bringing in results on the field.
"I owe a lot to Special Olympics Goa and to Sir Victor [Vaz] in particular," Mulla related.
"My training schedule was such that I have been able to concentrate on all aspects of my well-being so that I am able to bring glory to my country and State. This is such a surreal moment for me personally and I want to share this with my fellow athletes," she added.
Goa had opened Team India's medal hunt earlier on Tuesday after Goan middle-distance runner Geetanjali Nagvekar bagged gold in the women's Level D 800 metres.
This had been followed by a spurt of five medals – two gold, one silver each and a couple of bronze – on Wednesday.
Mulla's teammate Siya Sarode, also from Curchorem bagged four of these medals in the Powerlifting competition, while Taniya Ulhas Usgaonkar helped herself to a bronze in the 30 metres straight line roller-skating event.
Goa has a presence of 13 athletes in Team India's contingent of 280 at the Berlin Games. The Indian contingent has been doing well picking up several medals as the competition entered its fifth day.
Meanwhile, the men's, women's and unified women's teams all reached the semi-finals of their respective seven-a-side football tournaments. The highlight came in the men's competition where Team India – with four Goans in the squad – thrashed Hong Kong 7-0.
Aseef Malanur also advanced to the semi-finals in the 400 metres, while Aslam Ganjanavar reached the final bout in the judo competition. Golden girl Geetanjali Nagvekar – who triumphed in the 800 metres on Monday – was scheduled for action in the 400 metres later this evening.
The 2023 Special Olympics Summer Games will go on in Berlin till June 25.
Comment