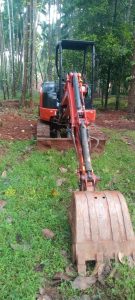 CANACONA: Extending services of yet another piece of equipment to make farming an assessable occupation, the Agriculture department has introduced an innovative and affordable Kubota, a Mini-Excavator for all agricultural activities.
Zonal Agriculture Office (ZAO) Canacona is constantly looking forward and exploring new ways to improve and introduce new farming equipment to assist and to the satisfaction of Canacona Farmers', informed Canacona ZAO Kirtiraj Naikgaunkar.
'Kubota', a new Mini type of Excavator, is introduced by the Atmanirbhar Shetkari Society, Canacona, with the assistance of Canacona ZAO for the use of all types of Agriculture activities.
According to Naikgaunkar, the Kubota (mini) excavator is highly efficient for various intercultural operations in various conditions, such as the digging of trenches in cashew plantations/gardens, land levelling, bench terracing, digging of pits, creation of irrigation ponds, cleaning of shrubs and bushes and more of agriculture and farming activities.
According to the Department of Agriculture, this machine (Kubota) will be a boon for local and traditional farmers as it is very compatible with narrow roads and margins, while it is highly capable of executing work in a convenient labour-less manner. Besides, it works efficiently and can help save a lot of money required for the labourers, added the Agriculture Department source.
Incidentally, the interested farmers can approach the zonal office (ZAO Canacona) for pre-booking and can avail assistance at 50% @ 375 / Hour basis, informed Naikgaunkar.
Comment