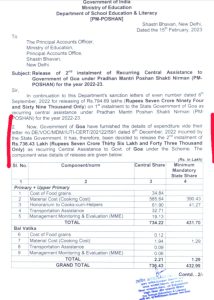 Goemkarponn Desk
PANAJI: Amidst claim from Directorate of Education about non release of payement by Centre towards mid-day meal, the Goa Forward Party has exposed that Centre via a two different installments has released over Rs 14 crore in last six months.
GFP Vice President Durgadas Kamat, via a social media, has made public communication from Union Education Ministry with regards to release of payment under Pradhan Mantri Poshan Shakti Nirman.
The first installment of Rs 7.94 cr were released in September, 2022 while another Rs 7.36 cr are released in the ongoing month that is on February 15.
"Education Director was made to lie saying they have not yet received Central Engine Funds towards Mid Day Meal Scheme. On 6th Sep 2022 7.94Cr was released and On 15th Feb 2023 7.36Cr was released by Central Engine to State Engine. Were these funds diverted for PR Events," Questioned Kamat
He further said he has been saying time and again that Education Department is degrading day by day.
"Dr Pramod Sawant either sack your non performing education director or you step down as education minister," he said
Kamat said that the Education dept has gone off track and CM should put his focus on the education department.
The General Secretary said that Goa Forward has written to CS that Demand for self-help groups is on the Rise by 1.90ps and should accept and clear the bills on time, or they will approach the judiciary.
The Goa State Commission for the Protection of Child Rights has asked the education department to respond to a news report that mid-day meal suppliers have threatened to stop school supplies over unpaid dues and rising costs.
The Commission said the provision of a meal is a key reason that many children attend/can attend school, and if the food is taken away, their attendance is likely to fall, and their learning will suffer.
"The facility of mid-day meal in the schools has attracted the young children and their parents towards schools to continue their studies. The scheme has also helped childre
Comment