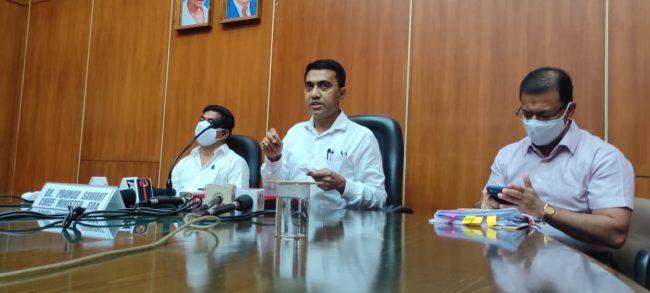 Goemkarponn desk
PANAJI: A day after the Union Health Ministry dropped Ivermectin from the country's Covid treatment protocol, the Goa government too dropped it's proposal to purchase the drug.
Addressing press conference post Cabinet meeting, thr Chief Minister Dr Pramod Sawant informed that he has dropped the proposal to purchase Ivermectin for prophylaxis or Covid treatment after Indian Council of Medical Research (ICMR) decided to drop the drug from treatment.
He said that government had earlier purchased the drug, which was made available to the patients in the home isolation kit as the same was approved by ICMR earlier.
He also rubbished the claim of Congress that government has purchased Rs 22 crore Ivermectin tablets. " People should not make baseless statement…they should first study the matter," he said.
The Chief Minister also said that government had never purchased the medicine, so far, for prophylaxis treatment.
Sawant was speaking in the presence of Health Minister Vishwajit Rane.
On Monday, after the Centre's revised guidance, Sawant said he would decide on the state's stance towards the drug.
In early May, health minister Vishwajit Rane announced that the state would give all those above 18 years of age Ivermectin tablets as a prophylactic to combat the severity of Covid-19. He said the decision was based on studies conducted in the US and UK.
The Health Department was supposed to make the tablets available free of cost across all health centers.
The decision was however challenged in the High Court, who directed the State not to use the medicine for prophylaxis promotion but as part of treatment of COVID patients.
Earlier, the World Health Organization had recommended against use of Ivermectin medicine.
Meanwhile, responding to yet another question, the Chief Minister said that Health Department has issued show cause notice to all the private hospitals, who failed to report on COVID deaths in time bound manner.
He said necessary action under Health Act would be initiated.
A total of 72 deaths were added to the cumulative Mortality tally in last two days, which had occured from August 2020 to March 2021 and again from May to August, this year. All the deaths were reported in private hospitals.
Comment