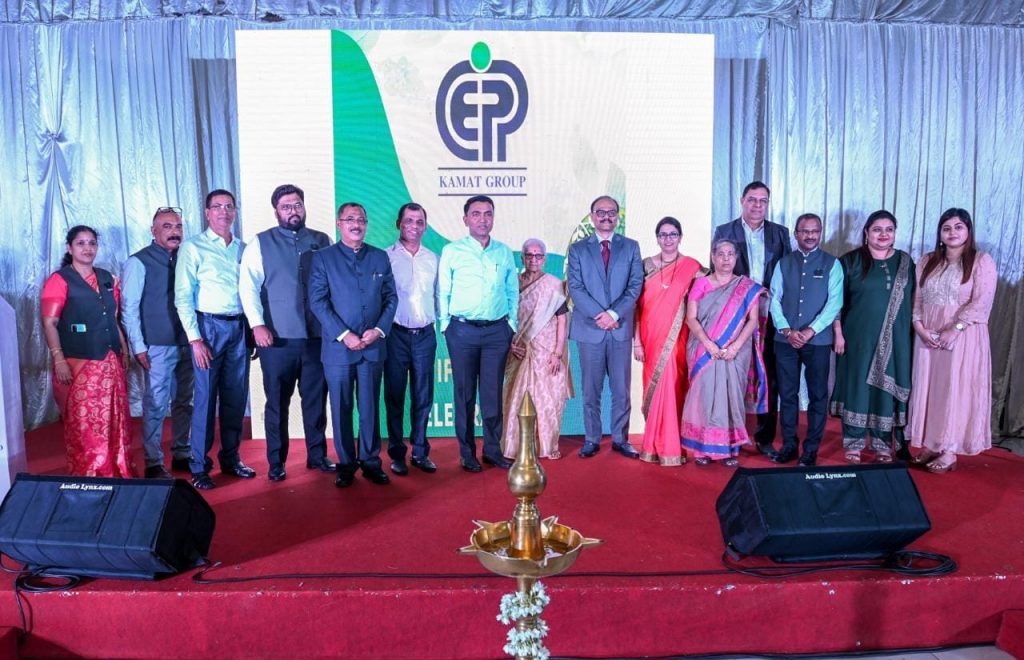 Goemkarponn Desk
BICHOLIM:To attain a cleaner, greener and safer future EP Kamat Group has been redefining eco-friendly solutions by offering green products, which are transforming Goa and helping community to reduce their carbon footprints and contribute towards a sustainable environment.
With a vision to be one of the most competitive and preferred greentech companies in India, EP Biocomposites Limited's IPO (Initial Public Offering) met roaring success with an increasing public trust in the company since its launch. Therefore, to mark the unmeasured success of the EPBL's BSE SME IPO, and to inspire more SME's to take this route, EP Kamat Group had organised a celebration at the D'Lila Banquet Hall, Mulgaon, Bicholim-Goa on 13th October 2022, in the glorious presence of Chief Guest, Hon'ble CM of Goa, Dr. Pramod Sawant, Keynote speaker Mr. Ajay Thakur – Head, SME & Start-up, BSE India, Guest of Honour and Dr. Chandrakant Shetye, MLA Bicholim. Many greetings, appreciation and applause captured the highlight of the event of the growing success of EP Biocomposites Limited's BSE IPO.
EPBL's dedication to provide eco-friendly products have brought about an everlasting change in the state, with smarter solutions like Sewage Treatment Plants that care for the health and wellbeing of the citizens and the environment by effectively treating and managing wastewater generated from residential and commercial complexes. The company also manufactures other green products like Bio-Digester Toilet, Effluent Treatment Plant, FRP Door and allied products.
Speaking on the occasion, Chief Guest Hon'ble CM of Goa, Dr. Pramod Sawant said; "It is wonderful to see such promising prospects emerging from our state. With a grand and Swayampurna vision, EP Kamat Group has yet again taken Goa forward towards making it a model state of the country. EPBL's IPO success is a proof of the trust and credibility the company holds and I am certain with such dedicated efforts, in near future we will witness a much cleaner and greener state."
Furthermore, the keynote speaker, Mr. Ajay Thakur, Head of SME & Start-up, BSE India, praised in high glory the efforts and fulfilling promises that EP Kamat Group has seen over the years in Goa. "BSE today is the largest SME Platform in India with over 400 companies listed. I am truly delighted to see EPBL's BSE IPO success. The vision of the company is commendable and will take great heights in future. No wonder the IPO was oversubscribed 17.48 times. It is an honour to be part of this celebration that holds many more promising aspirations for the future and I look forward to witnessing the grander gestures and a determined endeavour in the coming years."
EPBL will deploy the IPO funds in growth by expanding its team and geographical footprints and aspire to migrate to mainboard exchange within next 2-3 years.
As the celebration continued, Guest of Honour, Dr. Chandrakant Shetye, MLA Bicholim, poured out his thoughts and gratitude and appreciation for the launch. "EP Kamat Group has been doing a wonderful job in helping the state with eco-friendly products and services. I am happy that they are emplying more than 85% locals in their factory.
EPBL's BSE IPO is the way forward to many other SME Entrepreneurs too."
Comment