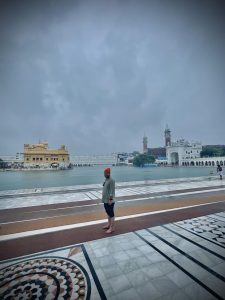 SURAJ NANDREKAR
As journalists, we are constantly hustling to get stories, meet deadlines, and be ahead of everything and everyone. As such, it sometimes become extremely difficult to strike a balance between our professional and personal lives.
Whenever such a situation arises and I face a creativity block and best thing to remove the blockade is to travel. This time I decided to visit Amritsar, the Golden City. I'm glad I took the break; however, never did I know that this trip would bring about a peace of mind.
This was my fourth trip to this Golden City, and everytime I visit this place I feel the peace of mind. Religiously a Hindu, but I am in love with this place. The Golden Temple, Sri Harimandir Sahib is not only a central religious place of the Sikhs, but also a symbol of human brotherhood and equality.
It attracts pilgrims from all over the world who pay their respects and do voluntary service in numbers that rival the yearly visitors to the Taj Mahal in Agra. The temple also provides a place of worship and shelter for everyone, irrespective of their faith.

The temple looks particularly arresting at night when its imposing pure gold dome is illuminated. In addition to the dome, one of the temple's most incredible features is the langar, or free food from the community kitchen, provided to pilgrims or anyone else in need. The temple is said to have the largest free community kitchen in the world and feeds up to 100,000 people per day. It's possible to take a tour of the kitchen—an opportunity you should not miss—and even volunteer there.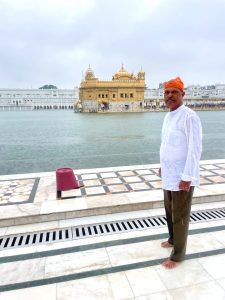 If you have time, the Golden Temple is well worth two visits—one during the day and one at night. Special rituals are performed at dawn, when the Guru Granth Sahib (the Sikh holy book) is taken out, and upon closing when it's returned to bed. The scripture is treated as a living person, or guru, out of respect. Sikh weapons are put on display at around 8 p.m. after the evening scripture. The temple is open almost 24 hours a day.
Usually you will have to be in a queue for around 40 minutes before reaching the sanctum sanctorum. However, it could even take longer during peak seasons.
A visit to Golden Temple helped in finding myself and recollecting my thoughts. This trip changed my life and would be apt for anyone who is looking for peace.
With the constant hustle, we often forget to value ourselves and see things from the point of view of those who are constantly judging us or telling us that we are not enough.
This trip has helped me to explore the best version of myself and I feel every one of us needs this break.
Do's & Don'ts in Golden Temple…
On arrival at the Golden Temple, both men and women are required to wear a scarf over their head (don't worry if you forget to bring a scarf as headscarves are sold outside at a very cheap price).
All visitors must remove their shoes and wash their feet by walking through pools before entering the temple, as there is a cloakroom in the Golden Temple for shoes.
At every entrance to Sri Harmandir Sahib, there is provision for keeping shoes, and luggage of the devotees, free of cost. One must get a token after depositing one's shoes/belongings.
Please switch-off your mobiles before entering into the Sanctum Sanctorum.
Wash your feet/hands, and cover your head properly before entering the holy complex.
Cigarette, Biri, Tobacco or other intoxicants are strictly prohibited inside the holy premises.
Inside the Golden Temple chewing gum, sun glasses and photography are prohibited.
Anyone can take a dip in the holy sarovar (pool of nectar) but use of soap or shampoo is not allowed.
The wet clothes may kindly be deposited in a Wet-Clothes-Room.
If you so desire, you can wash yourself with soap at the washrooms provided in the parikarma (periphery).
Swimming is strictly prohibited in the sarovar.
Do not accept eatables from strangers.
These instructions are only precautionary, which are similar to any other religious/tourists place.
Photography is allowed only in the outer Parikarma. For special reasons permission for photography inside of The Golden Temple may be sought from the President/Sec. (SGPC) or Manager (Golden Temple).
Offerings in cash and kind are accepted in the Golden Temple.
Please get a receipt on offering donations for langar (community kitchen), building.
It is strictly prohibited to serve or eat any eatables in the Parikarma, or to loiter about with uncovered head.
It is not allowed to read or sell newspapers or play cards in the Parikarma.
Nobody can hold a religious congregation or deliver a lecture inside the Parikarma, unless permitted by SGPC.
Devotees should not pay any money to Sewadars on duty.
Please deposit your valuables including jewelry and cash at the counters provided for the same in the Sri Darbar Sahib complex.
Any complaint regarding any staff member / Sewadar / Management should be lodged at the office of Sri Harmandir Sahib located in the Parikarma near Darshni Deori and Ber Baba Budha Ji.
Karah-Prasad (holy offering) should be distributed only after one's exit from the Sanctum Sanctorum. Its distribution on the bridge creates congestion which hampers the smooth movement of devotees.
Please do not take bath at Har Ki Paori.
If any infant happens to urinate in the Parikarma, please clean it immediately or inform the duty Sewadars about it.
Walk clockwise around the pool and temple on the wide marble walkway
Comment