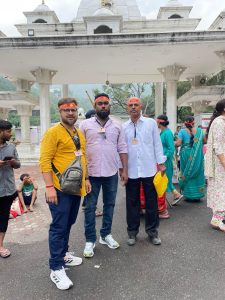 SURAJ NANDREKAR
So finally, after long planning, we decided to visit the Maa Vaishno Devi in Jammy & Kashmir.
As we were in Srinagar already, we took a State transport bus to Jammu, which cost just Rs 400 per person, but we were told it be a six-hour long journey from the Ghat section.
The reason we took a bus was because of the Amarnath Yatra which was underway, we were told the local taxis would depart last at 1 pm as after 2 pm no vehicles would be allowed and the taxis would take the same amount of time as the bus.
While the taxi was charging Rs 7,000, we decided the bus was a better option and we took the bus to Jammu. But due to heavy traffic and rain, the six-hour journey turned out to be of 11 hours. Luckily for us, after we crossed Ramban there was a huge landslide and vehicles were stuck for five days.
So Maa Vaishno Devi had already shown her miracle. We were safe.
After checking in at the hotel, we explored Katra market and dinner and went to bed early due to the stressful journey.
Trekk To Maa Vaishno Devi…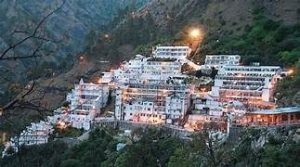 The next day we left the hotel around 6.30 am and reached the Registration Counter at Katra Market. You need to produce your Aadhar card and address to get the RFID card, which you need to wear at all times till you complete your trek. It took us 5-10 minutes as there was no crowd.
So we were ready with our cards around our necks and now we had a quick snack at the nearby (tea stall) and took an auto to the main gate of the yatra which charged Rs 210. Here we were frisked at the entrance gate and allowed inside.
Now here we are to complete a 13 km trek upwards, which looked steep. The weather was cloudy so there was no helicopter service.
As we started our walk, the first thing we observed was the horses, palkis wouldn't allow you to walk and there was chaos of sorts.
Ponies and palkis are available at Banganga gate. Do pay according to the standard rates decided by the shrine trust. Rates are written on walls.
Even though there are separate lanes at many places for horses and palkis nobody follows that.
The first six kilometres are very steep but you can relax and walk as there are ample shops for snacks and refreshments. Then the route is ups and downs. After 6 km you can get an EV auto only if you have an online booking for Rs 700. But please do not depend on offline booking the queue is huge.
The yatra route is open 24 x7. The trek is a 13 km stretch with a good ascent. An athlete/sportsperson walking at normal speed can complete the trek in 3 hours. A regular walk/jog of 10 km for 3 months prior to the yatra is advisable. You will see most of the people walking up, including elders above 60-70 years. This becomes a motivation in itself.
The road has proper lighting. It is paved and covered with roofs. The cleanliness level is satisfactory.
There are CCTV cameras in place. Loudspeakers are there for public announcements. Public toilets are easily accessible.
The shrine board and pilgrims should strive to maintain cleanliness.
You can reenergize yourself with snacks and juices. You can sit down and watch the beautiful sights. You see a mini-India here as pilgrims from different States visit this place.
There are several temples too to spend some time and take darshan and they have their own importance.
Reaching the Bhhavan…
After six hours of trekking, we reached the Mata Bhavan and there comes a point 1 km before the Mata Mandir where they have locker facility (free of cost). You have to deposit footwear, bags, cellphones or any metallic thing in the locker.
You can carry only Prasad and cash after this point. This is the last checkpoint.
There is a single queue for ladies and gents (sometimes the ladies queue is different). This queue takes you through narrow marbled caves. Don't try to jump the queue. It is a fast-moving queue, your turn will come soon. Both queues ultimately open at the same place.
After walking for over six hours, we were disappointed that the security did not allow us even six seconds to take the darshan of Maa Vaishno devi. They just kept us pushing – aage bado, aage bado (move ahead). and within a few minutes, we were out.
Though we were there for a few seconds, the picture of Maa Vaishnodevi was saved in our memories forever.
About the temple…
Popularly known as Mata Rani, Vaishnavi and Trikuta, Vaishno Devi is a manifestation of the Hindu Goddess Durga.
It is believed that during the pooja and aarti, Goddesses arrive at the Holy cave to pay their respect to Mata Rani. Devotees believe the goddess herself calls the devotees to reach here.
Vaishno Devi is said to be the mother who fulfils the wishes of her children. The darshan of Maa Vaishno Devi in the holy cave is in the form of three naturally formed rocks which are known as pindies.
These pindies manifest the three forms of the goddess as Maha Kali, Maha Saraswati and Maha Lakshmi. More than one crore devotees visit the Vaishno Devi temple each year.
Our way down to Katra…
After visits to Bhairav Baba temple in cable car we decided to walk back as it had started to drizzle. and we had nothing except plastic raincoats.
As we started our descent, the drizzle turned into a hailstorm. It started pouring like mad. The pieces of ice started pounding us from the sides and luckily there was covered shade on the entire route.
It was difficult walking down as it became slippery and water gushed in.
In about 4.5 hours, we reached Katra and here we had finished what was a memorable journey, which will remain with us for our entire life.
Jai Mata di…
Comment