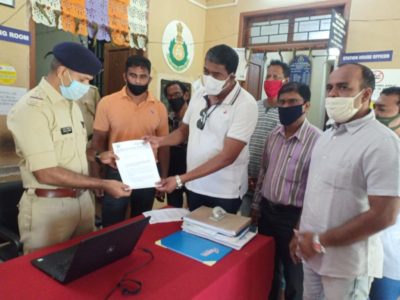 GPCC Vice president Sankalp Amonkar on Thursday morning submitted a memorandum to Coastal Police demanding thorough enquiry in the Nu Shi Nalini ship episode. While congratulating the police for the action taken by them in filing a case against the ship owners, amonkar said that there was a mastermind involved in getting the unmanned tanker ship carrying 2300 Tons of Naphtha to the MPT.
Amonkar alleged that Urban Development Minister Milind Naik was also involved in getting the ship to MPT along with MPT Chairman and reminded the CM Dr Pramod Sawant of his assurance to file a criminal case against the MPT Chairman for endangering the lives of People by allowing the vessel to drift in the cyclonic winds of Kyarr.
Amonkar said that there was no case filed against the MPT Chairman because of the fear of Cabinet minister Milind Naik being exposed. Amonkar also said that Naik had once said that the vessel carried sludge and not Naptha thus misrepresenting the contents of the cargo to help a company Canacona Hydrocarbon which was operating in MPT. Amonkar demanded the cancellation of Canacona Hydrocarbon and also demanded that it must be made public as to who had purchased the ship and it's cargo and where the proceeds of the sale of the ship and it's cargo had been gone and Wether the money received was given to the government. Amonkar demanded that the department carry a thorough enquiry In the matter and book all the culprits involved in the Nu Shi Nalini ship episode.
Comment