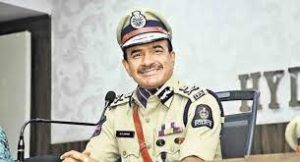 "MOVEMENTS OF OUR TEAMS WERE LEAKED TO DRUG LORDS"
"MY STAFF WAS ASSAULTED, AND AROUND 30 DOGS WERE LET LOOSE ON THEM"
"YOUR DGP HAS STOPPED TAKING MY CALLS"
Intro
Team Goemkarponn, led by Editor-in-chief Suraj Nandrekar and Chief Photographer Rozario Estibeiro, landed in Hyderabad to unearth the drug nexus in Goa after three kingpins – Edwin Nunes, Steve Peter D'Souza and Pratik Borkar were arrested and taken to that City for supply of drugs to consumers in Hyderabad.
All three are currently arrested under Preventive Detention Act and cooling their heels at Chanchalguda jail in Hyderabad City.
Team Goemkarponn spoke to Hyderabad City Commissioner CV Anand on the drug raids and arrests in Goa…
Excerpts…
GP: Congratulations sir, on your success in Operation Goa to clear the mess in Hyderabad. Just wanted to know, what led you to the raids and arrests in Goa?
CV Anand: No Police can work without the approval of the Government of the day. I am not blaming any government, but in Telangana and Hyderabad, the Government is clear. Our CM, Mr KCR, is very clear, not a single paddler, supplier, or consumer should be tolerated in the State. We have to execute the plans and policy decisions of the Government.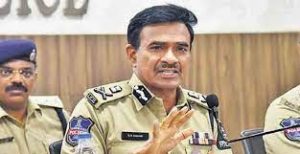 GP: Do you mean to say Goa Government does not want to eradicate the drug trade from State?
CV Anand: We are nobody to say that, but the commitment from Goa Police is questionable.
When we approached the Goa Police and the Goa Government, we were sadly told that any stringent action would affect Tourism in State. This is a sad reality even when the Union Home Minister has clearly stated that the drugs cannot be tolerated and the business must be eradicated.
The Union Minister has clearly said that drugs are coming to India from major ports, airports, the Rajasthan-Pakistan border, and the Pakistan-Gujarat border. Our border with the neighbours is porous. There are a total of 11.5 cr drug addicts in India. Families are broken with one person is addicted to drugs.
GP: Do you think all the three arrested are the kingpins, or is there anyone else who is controlling them?
CV ANAND: For us, the three – Pritesh Borkar, Steve Peter D'Souza and Edwin Nunes were the kingpins who supplied drugs to Hyderabad. Someone else may be controlling the above three in Goa, but that is not our lookout at all. It is something Goa Police has to investigate and unearth. Some Russians and Nigerians are also major suppliers in Goa. In fact, our investigation indicates that lots of consignments come from charter flights to Goa.
GP: You mentioned at a press conference here in Hyderabad that you did not get any support from Goa Police. Can you please elaborate?
CV ANAND: Not at all; we never received any help from Goa Police. In fact, whenever we came to raid or nab a suspect, they were tipped off by Goa Police officers. We are now scared to seek help from Goa Police.
Goons of drug suppliers assaulted our persons; around 30 dogs were let loose on them. Luckily there was no major injury or casualty as our personnel are trained to tackle such s.
More importantly, your Director General of Police, Jaspal Singh, has stopped taking my calls. Now we are going to Goa only with the court warrants.
GP: How did you get Goa links, and how are you tackling the drugs here in Hyderabad?
CV Anand: Basically, we are working to clear the mess here. Not just paddlers, we have started arresting the consumers. Unless there is a stop on demand, the supply will continue, so we have started breaking the consumer chain by making arrests. The liberal look at the consumers will not help the cause of eradicating drugs.
Anyone going to Goa is being looked upon suspiciously by 1000 eyes.
GP: Please continue…
CV Anand: We have formed the Hyderabad Narcotics Enforcement Wing (HNEW). We started with consumers, paddlers, contacts and cargo. So the chain links were found to be mostly in Goa. Even the DARKNET links took us to Goa, and that is how we got the names of Edwin Nunes, Steve D'Souza and Pritesh Borkar and finally, Bal Murugan. They are the main druglords in Goa.
These people did business in Shacks and had huge properties where they conducted parties.
Our HNEW team initially went as consumers as the Goa Police was not cooperating; in fact, they were leaking our movements to the suppliers. Still, we did not give up and finally arrested them by luring them near Hyderabad.
GP: So what next for Hyderabad Police, as these three could be bailed out at some point in time?
CV Anand: Well, it's not that easy; all three spent crores on getting bail, but we again arrested them under the Preventive Detention Act, under which we can keep them here for a year. We have very strong evidence against them, and also, they have confessed to the crime, and we have no doubt they will be our guests for years now.
Now for us, we are looking at four more people in Goa and watching their movements…but currently, our focus is not just on Goa but Mumbai, which is become a major supplier of MDMA and Cocaine. Thankfully, the Mumbai police are cooperating.
Comment