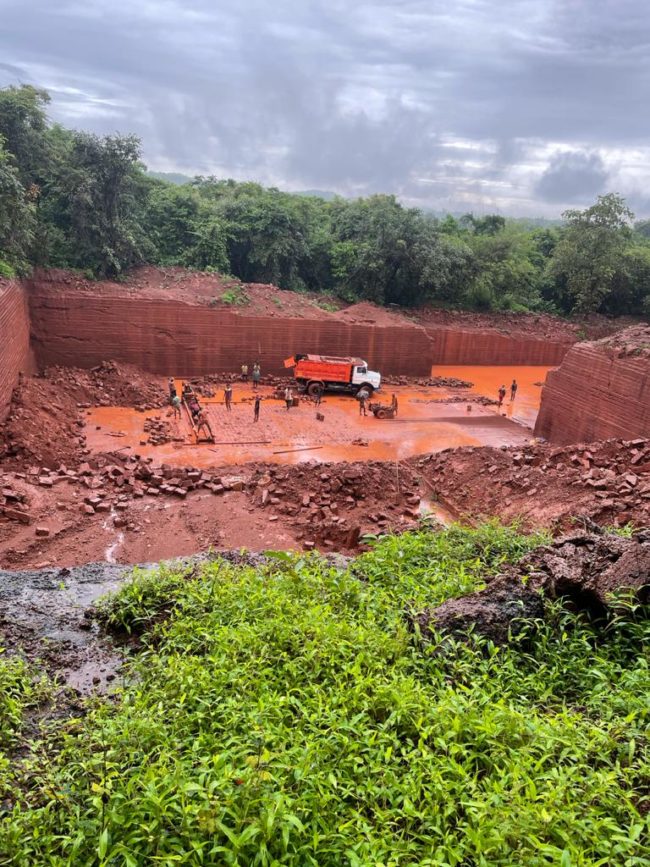 Goemkarponn desk
SANGUEM: Not a month has passed since Chief Minister Dr Pramod Sawant warned that encroachment on the land of Sociedad would not be tolerated.
While crores of rupees are being traded on government land, people express surprise that the administration is pretending to be asleep.
Recently, Chief Minister Dr Pramod Sawant had visited the Sange area.
Within a month of their visit, it has come to light that thousands of square meters of land at Kashti had been demolished for laterite mines.
While discussing with the villagers, they informed that the hill cutting is going on laterite mines in full swing.
A large number of trees existed on this hill. They have been cut down. The roots of the trees have been uprooted with the help of JCB to avoid any evidence. Locals have informed that more than one and a half hundred trees have been cut down.
Since the instructions were given, the sawmill owner has brought a large automatic machine and started cutting the saws quickly. Each saw cut through the middle of this machine is being sold for Rs.
They are going to have a large number of incisions. Taking this opportunity, the government lands in Kashti have been literally razed to the ground.
Costi is a village about 12 km from Sanguem. The chirekhan is located near the village. Earlier, a local lawyer had tried to raise his voice against the illegal mine. The lawyer's car was also attacked.
People are now afraid to raise their voices against him. The district administration is also silent. According to sources, more than ten trucks are being sold every day.
The mine is being expanded. However, the forest department is ignoring it.
Comment