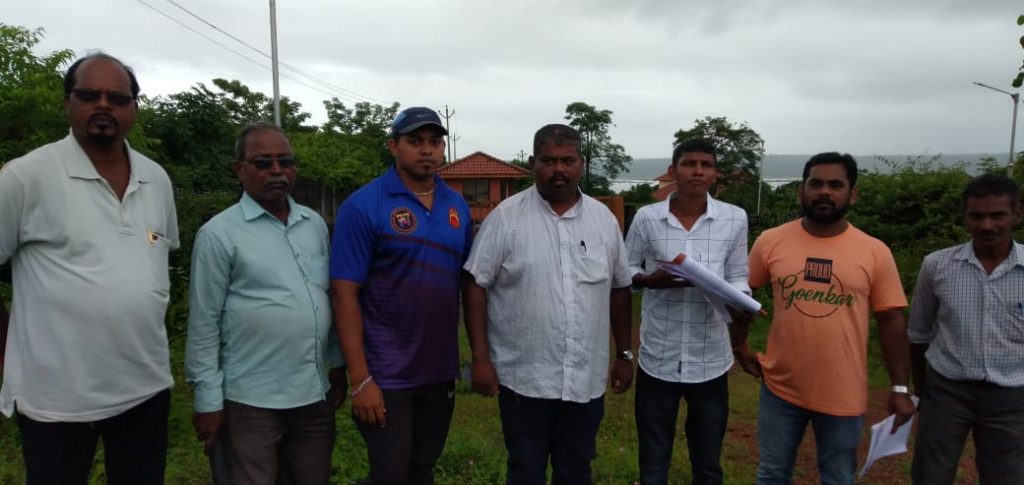 Goemkarponn desk
PONDA: Kundaim locals today strongly opposed to Panchayat granting NOC and Occupancy to Karnataka-based Chitrapur Mutt on Communidade land, stating that the Mutt is constructing residential construction and while permission is asked for a farmhouse.
They blamed the Panchayat secretary for not following rules while issuing notice for inspection of Mutt.
The Villagers alleged secretary and Panchayat body working under Political pressure and not in the village interest.
They said there is no benefit of construction by Mutt to locals at Kundaim communidade plateau and that land should be given to locals for house constructions.
The Locals, including complainant Naresh Gaude Vijesh Naik, gathered at Kundaim near the construction site and opposed Panchayat giving NOC and occupancy to the said construction, stating that it was not a farmhouse project for which the Mutt had sought permission from Panchayat.
The Villagers blamed Panchayat Secretary for conducting a site inspection on 7 September this month along with TCP officials and Mutt representative excluding villagers for the said inspection who are complainants into the matter and who are also approached in Court into the matter.
The Villagers also filed a police complaint against Panchayat Secretary for his arbitrary decision for site inspection without notice of the Sarpanch.
The Villagers said the said site inspection this month was illegal, and the site inspection should be done again in the presence of BDO, TCP, Complainant, local Pachmembers, Sarpanch and the Mutt officials to find out whether the construction done is a farmhouse or the commercial project as per plan submitted.
The Villagers briefing media said the construction work is not a farmhouse according to the plan submitted by the Mutt, and considering the violations, the construction is illegal, and therefore Panchayat should not issue NOC / Occupancy certificates for the said farmhouse project by Mutt.
Earlier, villagers said Kundaim Gramsabha had strongly opposed Karnataka-based Chitrapur Mutt a few months ago and passed a resolution to revoke the construction licence granted to the Muth on Kundaim Plateau, claiming the Mutt construction is illegal, and permissions obtained are providing misinformation to various government agencies.
Villagers said they demanded communidade lands be preserved for future generations.
Locals said the 28 pillars constructed are proof of residential construction.
The locals demanded to demolish the illegal structures and compound walls and seal the illegal bore wells, which pump huge amounts of water, causing shortages to bagayats of people residing below the plateau.
The locals also demanded to remove the transformer on the plateau installed for Mutt, stating that it creates power failures in the village.
Locals questioned the need to provide 36000 square meters of communidade land to Mutt, which is of no use to locals. Stating that said already there is a shortage of land for locals and that the communidade lands should be protected for the benefit of future generations.
Comment