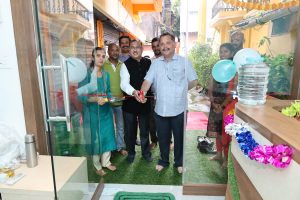 Goemkarponn Desk
MARGAO: EP Biocomposites Ltd launched the EP Green Center on 29th September at hands of the Minister of Environment, Public Work Department, Law & Judiciary, Legislative Affairs – Shri. Nilesh Cabral and in presence of prominent Archiect, Consultant and Engineers at Sapana Chambers Co-op Society, A D Costa Road, Margao.
In today's world, where environmental concerns are at the forefront of global discussions, the need for sustainable solutions has never been more crucial. The EP Green Center by EP Biocomposites Ltd (Part of EP Kamat Group) aims to address this pressing issue by offering a wide range of environmentally friendly products and services. This concept center by EPBL not only promotes its green-tech products but also contributes towards a cleaner, greener & safer environment by these products & services.
The EP Green Center will be a one-stop-shop for multiple sustainable solutions. From eco-friendly household solid waste management products to waste water management, from sanitation solutions of Bio-Digester Tanks & Toilets to FRP Doors & other Allied products, customers will have access to a diverse range of products that align with their environmental values. By providing these alternatives, the center will encourage individuals & stakeholders to make conscious choices that reduce their carbon footprint and promote a greener future.
Nilesh Cabral, Minister of Environment, Public Work Department, Law & Judiciary, Legislative Affairs said, "I applaud EP Biocomposites Ltd for their remarkable endeavour in launching the EP Green Center, a true testament to their commitment to sustainability. By providing a comprehensive range of environmentally friendly products and services, EP Biocomposites is empowering us all to make choices that benefit our planet. Together, we can build a brighter and more sustainable tomorrow."
Rajkumar Kamat, Managing Director of EP Biocomposites Ltd said, "that EP Green Center is one more step in tune with EP's mission of Contributing towards a Clean, Green and Safe Planet. Environment friendly and green product is not only good for our habitation and community, it also means immense business sense to the entire world slowly opting for Greener Solutions. I would like to appeal to the environmentally conscious entrepreneurs to join hands with EP Biocomposites Ltd as Channel Partners and strongly entrain themselves into business of the future – Green Business. We also appreciate the consistent efforts of Environment Minister – Shri. Nilesh Cabral for proactively working on Clean and Green Goa and thanked him for accepting the request to inaugurate our 1st EP Green Center in South Goa"
The EP Green Center will not only offer sustainable products but also serve as an educational hub. Workshops, seminars, and interactive sessions will be conducted to raise awareness about the importance of sustainability and the impact of our choices on the environment. By empowering individuals with knowledge, the center will inspire them to adopt eco-friendly practices in their daily lives.
To ensure a wide range of sustainable options, the EP Green Center will collaborate with local businesses, architects, engineers & developers who share the same vision. This collaboration will not only promote local businesses but also foster a sense of community and support for sustainable initiatives. By working together, a network of like-minded individuals and businesses dedicated to making a positive impact on the environment can be created.
EP Biocomposites Ltd welcomes Channel Partners in and out of Goa to collaborate and embrace this exclusive concept of spreading and work together towards a more sustainable and prosperous world.
Comment