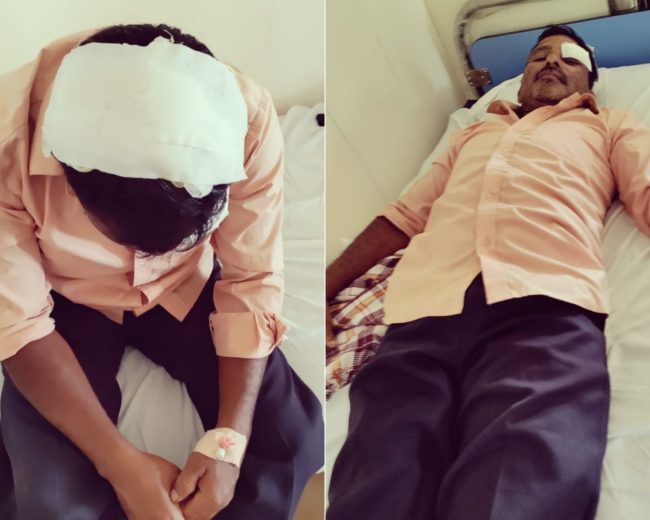 Goemkarponn desk
CANACONA – A 45-year-old man from Pedem-Loliem is attacked and injured by a Leopard at his house on Thursday -Friday midnight.
Dilip R. Satarkar, who suffered paw injuries above his head's left eye and backside, is presently undergoing treatment at Community Health Centre (CHC), Chaudi.
According to Satarkar, he was woken up from his sleep by their violently barking dog at about 1 am on Thursday night.
"When I opened the main door of his house, I saw our dog largely terrified, up above the wooden plank where usually the dog sleeps, and a leopard down below. On seeing the leopard, I tried to shoo him away, but suddenly the dog came down, and both were engaged in a brawl. After I persisted in making more sounds, the dog broke free from the leopard and ran out; however, the leopard suddenly jumped on me, and I fell down. I tried to break free in the melee and ran inside soaked in blood (bleeding with injuries on his forehead and on the head behind) and closed the main door.'
According to Satarkar, all this happened right inside the house (having a verandah and before the main door in an open room without a door).
Soon, Dilip's mother woke up, and then the rest of the family (wife, children, and next door brother and his family) alerted neighbors.
A profusely bleeding Dilip was then brought to the CHC late in the hours, where doctors treated him.
Dilip Satarkar is presently recuperating at CHC, admitted in General Male Ward, and is out of danger.
Comment