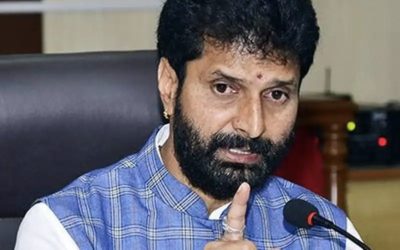 Goemkarponn desk/
PANAJI: BJP Goa In-charge CT Ravi today said that former Chief Minister Manohar Parrikar's son Utpal is a BJP worker, and he will stay with the BJP and work for the party.
"Former Defence Minister Manohar Parrikar always worked for Bharatiya Janata Party and never brought his family to politics," said CT Ravi.
He further said that BJP became strong in Goa due to the hard work of Manohar Parrikar. Manohar always dreamt of strengthening the party further. He worked towards this goal throughout his life. He believed that BJP was the only party that could ensure development in Goa.
"AAP, Shiv Sena, TMC and Congress are talking about (supporting) Utpal Parrikar today. But did Congress ever help Manohar Parrikar Ji? Have we forgotten what statements Congress and its leader Rahul Gandhi made about Parrikar when he was ailing? The people of Goa have not forgotten Arvind Kejriwal's statement during that time," he added.
Ravi said that BJP will definitely hit a hat-trick win in Goa, and different surveys show that the party will come to power again and win the upcoming elections.
"On issues like social harmony, law and order and development, we will contest elections in Goa and will come in power once again," said the BJP leader.
Ravi said that BJP will contest elections on all 40 seats and will try to win them. "We will contest election on 40 seats and try to win all the seats. Our cadre is working on it, and their network is good. Based on the inclusion of each assembly segment, we can achieve the target of winning hundred per cent," he added.
Comment