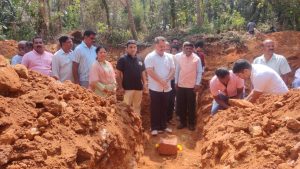 Goemkarponn Desk
CANACONA: On the side-lines of his Canacona visit for 'Prashasan Tumchea Dhari, PWD Minister Nilesh Cabral visited the house-construction sites being constructed under the recently launched 'Shram-Dham' to construct houses to the needy membners of the society in Canacona.
Under the 'Shram-Dham' concept floated by Canacona MLA and Speaker Ramesh Tawadkar on behalf of Bharatiya Janata Party, 40 thatched or poorly maintained houses of the needy people of Canacona have been taken for construction by Canacona BJP under a newly formed Trust Balram Charitable Foundation at the hands of Chief Minister Dr. Pramod Sawant.
As soon he arrived in Canacona, Tawadkar took Cabral on a tour to witness the construction activities of three houses at Ziltawadi (Gaondongrim), Pasal-Ordhafond and Kumbegal in Poinguinim. Minister Cabral himself laid the foundation stone to a house at Kumbegal in Poinguinim in the presence of Canacona MLA/Speaker Ramesh Tawadkar, Canacona municipal council Chairperson Ramakant Naikgaunkar, Poinguinim Sarpanch Savita Tawadkar, Khotigao Sarpanch Anandu Dessai and others.
A visibly touched Cabral announced to provide construction materials for construction of some of these houses in Canacona, and later announced, 'I am deeply impressed by this noble activity by Canacona people to construct houses to the needy people and I too will take a decision soon, to implement this type of concept in my constituency.
Yes, government sponsored housing schemes always do not come handy to help the needy people due to various issues, but the Shram-dham' concept has the potential to touch the lives of all the needy strata of the society'., said Cabral later speaking at 'Prashashan Tumchea Dhari' get-together m where problems and issues related to 6 panchayats and 1 municipality in Canaocna were brought to his notice.
Speaking further, Cabral advised, to bring the cases, wherever obtaining NOC's for land acquisitions to bring the same to the notice of the Dy. Collector, who will solves the matter according to the law of the land. "If in a 10-members family only eight members of a family are giving permission to carry out any project in the area of ancestral lands , the project can be completed thereby submitting/obtaining an affidavit from the willing co-owners.'
"Our goal is to achieve development to the last person and donors continue to donate generously to the Shramdham concept' informed Balram Charitable foundation Chairman and GLA Speaker Ramesh Tawadkar.after stating all the 14 houses will be completed by May and, thereafter in a time framed manner a total of another 150 houses will be built in the next 4 years to keep a decent roof over the heads of every family in Canaocna.
Later, In the evening Cabral after visiting the Shree Mallikarjuna Temple where he was presented with an image of the deity, Tawadkar also discussed with the Mahajans regarding the development work in the temple area.
Cabral in the presence of PWD officials inspected the Bhailey/ iron bridge at Didkitari (at Panyefond), which connects Kindlem-Mangan (Canacona municipal area) to Sadolxem (Poinguinim) over river Talpona.
CMC Chairperson Ramakant Naigaunkar gave in an representation to the PWD minister has requested to widen the narrow bailey bridge, (which is literarily a pedestrian bridge, but conveniently used by motorists/vehicles) to facilitate safe passage to vehicles.
Naikgaunkar has also asked to execute developmental works on priority of providing Hot mix carpet at Delem road, provide full grout and hot mix carpt from Navodaya to Kindlem ward, Retaining wall on bother sides of narrow road from Char-Rasta to Ponsulemand providing hot mix carpet from Char-Rasta to Devabhag internal road, , premix from at Kindlem internal roads at Musir, Mangan.
Comment