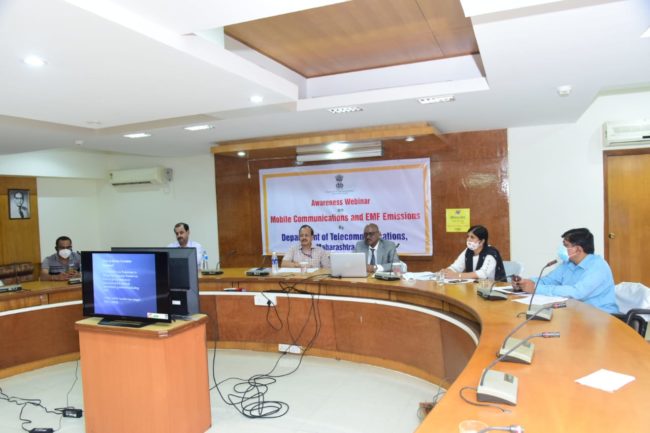 Goemkarponn desk
PANAJI: The Goa unit of the Department of Telecommunications (DoT) organised an "Awareness Workshop on Radiation from Cellular Mobile Towers" under the Chairmanship of Shri Ashok Kumar Mittal ITS, Advisor, DoT at Sanchar Bhavan Patto Panaji today.
This workshop was organised as part of DoT's public advocacy programme designed to dispel myths around Electromagnetic Frequency (EMF) Radiation and quell unfounded citizens' fears, supported by credible scientific evidence.
Giving an outline of the telecommunication services and highlighting the issues faced by the stakeholders, Shri Ashok Kumar Mittal, ITS, Advisor, DoT, mentioned, "Mobile towers are vital for smooth connectivity. However, rising misinformation related to health concerns posed by mobile towers is alarming. We are here today to address these myths and misconceptions that lack any foundation".
Dr T.K Joshi, Advisor to Health Minister, Government of India, said, "Scientific research is a testimonial to the fact that there are no health impacts of these radiations on human health. Citizens need to understand today that mobile tower EMF radiation is being strictly monitored, and evidence from credible sources has ruled out the possibility of health issues emanating from EMF radiations."
Shri S.Sudhakar, Deputy Director-General, Department of Telecommunications, Goa, gave a presentation on the technical aspects of EMF from Mobile towers and the Government initiatives to expand the Telecom and Internet Facilities to support the latest and the advanced new services for the General public of Goa.
Mobile Services and wireless broadband access are necessary for the rapid growth and modernisation of various sectors of the economy and the success of key Government initiatives related to education, health, finance, Direct Benefit Transfer, e-KYC and other e-governance services. Telecom towers are critical infrastructure for providing mobile connectivity in all areas, including residential areas.
The EMF Project of the World Health Organization, after two decades of extensive research, has corroborated that there is no evidence to support the claim that exposure to low-level electromagnetic fields is harmful to human health. The WHO has studied over 25,000 articles and concluded that there is no correlation between mobile tower EMF emissions and their hazardous impact on human health.
In India, the EMF radiation norms are ten times stricter than the limits prescribed by the International Commission on Non-ionizing Radiation Protection (ICNIRP) and are recommended by the World Health Organisation (WHO).
Goa unit of DoT has done EMF testing across Goa, and all the towers have been found compliant with Indian EMF norms. Citizens need not worry about the adverse effect of mobile tower EMF radiation as they are strictly monitored. Evidence from credible sources has repeatedly ruled out the possibility of any impending health hazards emanating from EMF radiations.
For towers, emission check: go to http://tarangsanchar.gov.in/EMFportal.
Click on the location and find EMF levels. The site also geo-locates location by itself. Get email updates for the tower near you.
For mobile radiation check – Type *#07# on mobile to check mobile-specific absorption rate (SAR). The SAR value, which is the radiation emitted by a cellphone, will have to be displayed on mobile handsets. The 1.6 watts/kg averaged over a mass of 1 gram human tissue are only permitted to be manufactured or imported in India for the domestic market.
Smt Smita Prasad Darshetkar, Goa Telecommunication, presented a poem giving the right message that there is no need for fear of radiation from mobile tower and telecommunication's importance in the modern world. We use online services for many purposes.
Principal General Manager, Goa Telecommunication, Shri Sanjay Kumar Chaudhari welcomed the guests.
Comment