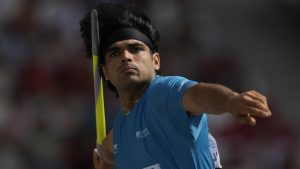 Goemkarponn desk
PANAJI: Olympic champion Neeraj Chopra on Sunday scripted history yet again as he became the first Indian to win a gold medal in the World Athletics Championships with a big throw of 88.17m in the men's javelin final here.
In another first, three Indians finished in top eight with Kishore Jena (84.77m) and DP Manu (84.14m) taking the fifth and sixth spots respectively. Never before did three Indians finish in top eight of an event in the World Championships.
The 25-year-old Chopra achieved his best throw of the day in his second attempt. He had a foul to start with, but then got 88.17m, 86.32m, 84.64m, 87.73m and 83.98m.
Pakistan's reigning Commonwealth Games champion Arshad Nadeem took the silver with his season's best throw of 87.82m, while Jakub Vadlejch of Czech Republic got the bronze.
Chopra has now become only the second Indian — after legendary shooter Abhinav Bindra — to simultaneously hold the Olympics and World Championships title. Bindra won the World Championships title when he was 23, and the Olympics gold at 25.
Chopra, who had become the first Indian Olympic track and field gold medallist in Tokyo Games in 2021, had won a silver in the 2022 edition of World Championships.
Before him, legendary long jumper Anju Bobby George had won a bronze in the 2003 World Championships.
Meanwhile, President Droupadi Murmu and Prime Minister Narendra Modi on Monday congratulated Neeraj Chopra for winning a gold medal at the World Athletics Championships and said he exemplifies excellence.
In a series of tweets, the President said, "Neeraj Chopra adds yet another golden page to the history of Indian sports by becoming the first ever Indian to win a gold medal in World Athletics Championships. His superlative performance in the javelin throw finals at Budapest will inspire millions of our youth."
She said, "India is proud of Neeraj Chopra. I convey my heartiest congratulations to him. I wish his legend grows with more such feats. It is a matter of great national pride that three Indians, Neeraj Chopra, D.P. Manu and Kishore Jena together competed in the final round of the World Athletics Championships 2023 javelin event and they finished in the top six. I congratulate each one of them. They have taken Indian athletics to unprecedented heights. I wish them many more laurels in the future."
In a tweet, Prime Minister Narendra Modi said, "The talented Neeraj Chopra exemplifies excellence. His dedication, precision and passion make him not just a champion in athletics but a symbol of unparalleled excellence in the entire sports world. Congrats to him for winning the Gold at the World Athletics Championships."
The Indian superstar also became only the third javelin thrower in history to simultaneously hold the Olympics and World Championships titles after the iconic Jan Zelezny of Czech Republic and Andreas Thorkildsen of Norway.
Zelezny clinched Olympics gold in 1992, 1996 and 200 while winning World Championships title in 1993, 1995 and 2001. Thorkildsen won gold in 2008 Olympics and 2009 World Championships.
With his feat on Sunday, Chopra has won every title his sport has to offer. He has won gold in the Asian Games (2018) and Commonwealth Games (2018), besides four individual Diamond League Meeting titles (two each in 2022 and 2023) and Diamond League champion's trophy last year.
He also became junior world champion in 2016 and won the Asian Championships title in 2017.
Comment