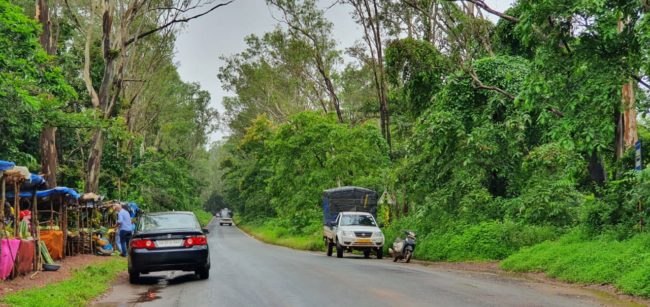 Goemkarponn desk
CANACONA: Promises are made to be broken, this the hundreds of roadside vendors selling their produce beside the NH66 from Balli to Canacona has learned the hard way, they say that they innocently believed when the late Manohar Parrikar assured them that roadside markets will be built if he comes into power.
It is common to see hundreds of locals, most of them women and some men selling their seasonal produce by erecting stalls at the edge of the NH66 during monsoon.
They primarily sell cucumber, mesh melon, bottle gourds, ash gourds, and leafy vegetables grow in the monsoon on the slopes adjacent to the NH66 from Balli to Canacona.
And with thousands of commuters using this road daily, they find it easy to sell their produce by erecting stalls on the side of the road.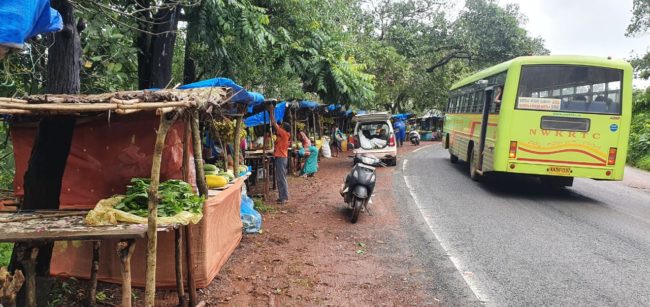 But by doing so, they risk themselves from being trampled by vehicles as the entire stretch of this road from Balli to Canacona is reportedly an accident probe zone.
Neither the PWD nor any other government agency is concerned about their safety as the vendors sit in the makeshift stalls the entire day waiting for the customers.
Even though some concerned citizens have been raising the safety of these vendors and the commuters, the government authorities have seen this as a problem. It seems that they are waiting for a major disaster many concerned citizens feel.
Manoj Prabhugaonkar, a concerned citizen who uses this road, frequently informed this correspondent that the vendors have erected the stalls on the shoulder of the road, the prospective customers halt their vehicles on the road, as it is the road is narrow and accident-prone, why can't the authorities direct them to erect the temporary stalls in such a way that it is safe for them as well as to the commuters he questioned.
These vendors have unknowingly erected stalls at Benude, Khaddem, Padi, Barcem, Karmalghat and Gulem; most are on blind curves. It is too dangerous for everyone around, informed Anil Bhagat, a senior citizen from Gulem.
He warned, just imagine the consequence of a brake failure for a heavy-duty vehicle; the innocent vendors will get crushed under the wheels.
Sangtu, one of the vendors here, informed that as the road is not so wide, they have no other choice than to erect the stalls on the edge of the road even though it poses a risk for them.
He added that Parrikar while canvassing for assembly elections two decades ago, had assured them that if he comes to power, he will build roadside markets, now BJP is in power for the last ten years now the leaders have forgotten the promises, and we have to contend that the politicians make promises only to be broken and to keep them unfulfilled.
Comment