Goemkarponn desk
PANAJI: The "Collective" Opposition on Saturday decided to field Alexio Sequeira as their candidate for the post of the Speaker of Goa Legislative Assembly.
Elections for the new Speaker is scheduled to be held on Tuesday, March 29.
The Opposition parties, Congress and Aam Aadmi Party, held a meeting to discuss the candidate.
Speaking to reporters, Calangute MLA Michael Lobo said that the Opposition has taken a collective decision.
"We discussed with AAP's two MLAs and Revolutionary Goans and Goa Forward, and it was decided to field former minister Alexio Sequeira for the post. He will file his nomination today," Lobo said.
He also said that the Opposition parties have decided to take a fight unitedly, be it agitations or any issues in Goa.
Asked about teh Leader of the Opposition issue, he said, let the Government and Chief MInister be sworn in first.
"I think that is a more critical issue. The Leader of the Opposition can be decided immediately.
The Leader of Opposition decision will happen in Delhi as far as Congress is concerned," he said.
On his visit to Delhi, Lobo said he was summoned to Delhi by AICC leaders, and he has given his report on the election result.
"I was called abut discussion on the election result, and nothing was discussed about LoP post. However, if teh party gives me the post, I am ready to accept it in and outside the assembly. I will work strongly for the people of Goa right from North to South," he said.
He said the Congress had said this long back this would happen about the fuel price hike.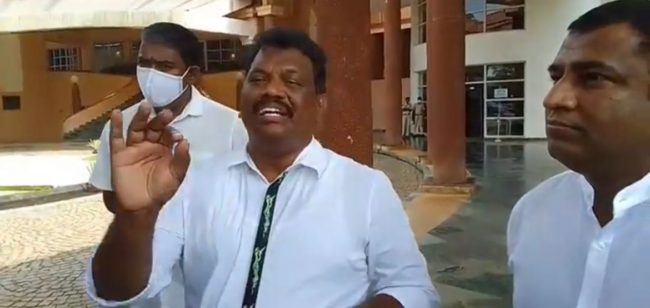 "It is a big hike. People will now feel the pinch as the price of essential commodities increases. Prime Minister has to roll back immediately. He is coming to Goa on Monday, and I hope someone from the audience shows spine and stands up and tells him people are not happy," he said.
He said he had stopped the implementation of the new traffic fines last year.
"I had fought in the cabinet on the implementation of traffic fines. Otherwise, the common man would have been burdened for long back," he said.
Comment