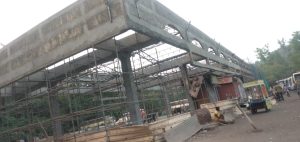 Goemkarponn Desk
PONDA: Is the renovation work on Ponda KTC Bus stand safe? This is biggest question posed by people.
The Bus Stand was inaugurated 30 years ago however with no proper maintenance it's portion was collapsed two time in past. The government declared it unsafe and started renovation work.
Not only locals vendors and shop owners but Former Bandora Sarpanch Rajesh Naik also questions about repair work of KTC Bus stand Ponda which was on verge of collapse.
He stressed to construct new bus stand.
Even from Ponda locals Growing demand for new KTC Bus Stand for Ponda instead of wasting money on old shed.
Safety of it is in question as all know that last year the government had declared the KTC Bus stand Shed as unsafe for passengers and had barricaded from all sides.
Few months later government had itself started renovation work and it's more than year now the work is incomplete.
The locals has posed biggest question whether the repair and renovation work started on bus stand shed is safe or it would risk lives of passengers. Because two times the portion of bus stand shed was collapsed and it was Lucky escape for passengers. Still this collapsed portion is not repaired yet.
The shop owners , motorcycle pilot said they have not seen any workers conducting repair work. After two months of renovation work the shed work is kept pending and thus passengers are incoveneiced and forced to stay in scorching sun. If renovation is not completed before rain than the passengers would forced to face rain while waiting for arrival of buses.
Passengers inconvenience as ponda KTV Bus stand renovation work halted for past four months. Bus stand remains in Darkness during night.Passengers forced to face scorching Sun, some stay at shadow of trees. Roads in dilapidated condition with huge craters . During night time passengers forced to stay in darkness at night as there are no lights to illuminate KTC Bus stand . At night it wore look of crematorium with no lights to illuminate.
Some buses during night time avoid going to KTC bus stand due to bad roads with full of craters and takes stop for passengers on main road.
Temporary shed erected can occupy few passengers. It may be recalled that in the year 2022 Government declared KTC Bus stand shed unsafe for use of passengers.
The commuters since than were standing in the open while waiting for buses facing rain and sun. The temporary shed erected can be occupied by few people and name sake said passengers. Three months later in June started work on its renovation by costing around Rs 1 Crore, , however the work appears to be abandoned for past six months.
However the KTC Officials rejected the claim that the renovation work is halted for six months.
Comment