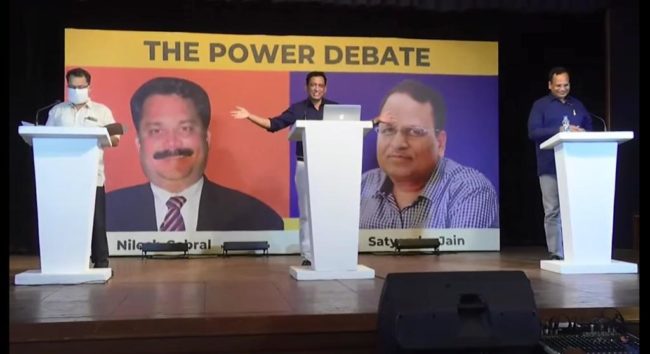 Goemkarponn Desk
PANAJI: The much-awaited "Power Debate 2.0" between BJP's Power Minister Nilesh Cabral and his counter part Aam Aadmi Party's Satyendar Jain, which was finally hosted in Panaji on Monday evening, saw the later promising to provide 24×7 electricity to Goan consumers if voted to power failing which has assured that the Minister concerned would resign. Cabral on the other hand maintained that it is technically not possible.
In his opening remarks, Jain stated, "Cheap and reliable electricity supply is a basic necessity and is the right of every Goan and it is the government's duty to provide it. If AAP comes to power in the next two years state will get 24×7 electricity failing which our power minister will resign"
In Delhi, consumption of up to 200 units of electricity is billed as zero while consumption between 200 and 400 units of electricity is given a 50 per cent discount. AAP claimed that around 73 per cent of Goans fall in the first category and around 20 per cent Goans comprise the second bracket of consumers.
On the other hand, despite the low energy charges in Goa, inclusions such as fixed charges, electricity metre rent, and duty inflated Goa's power tariff.
In response to this, Power Minister Cabral informed that around 59 per cent Goans comprise the Low Tension Domestic Consumption (LTDC) category who consume less than 400 units. On the other hand, Low Tension Commercial (LTC) consumers of up to 200 units form 59.28 per cent, 13.36 per cent commercial consumers use 200-400  units and above 400 units are consumed by 27.36 per cent.
Criticizing Delhi's "zero electricity bill" policy, Cabral argued, "It is the state government that foots the bill for all those consumers who are charged 'zero bill'. Even though individual consumers are not paying, the public treasury is bearing this cost."
Quickly, Jain pointed out that if these are the official figures and if only 60 per cent Goans consume below 400 units and at lower costs too compared with Delhi, it should be easier for Goa Government to extend the Delhi model of Delhi free electricity  to these consumers.
"Also, what is wrong with the state government paying the bills on behalf of the public without passing on the burden to each individual?" demanded Jain.
Jain then attacked the Goa government for failing to provide a reliable power supply. "The electricity supply provided by Cabral in Goa is neither cheap nor reliable," he charged.
"Similarly, the Delhi Jal Board (DJB) has an outstanding loan of more than Rs 26,000 crore and no amount was repaid in the last five years," said Cabral, while presenting various documentary evidence to back his statements.
Jain said, "Aam Aadmi Party will give up to 300 units of free electricity in the state while ensuring 24×7 constant power supply. 87% of Goa will get zero bills due to this policy, a version of which is already active in Delhi. Over and above this Old electricity bills will be forgiven and farmers will be given free electricity,"
Cabral alerted the public not to get carried away with Aam Aadmi Party (AAP) has promised to do in Goa, reasoning against its feasibility in the State and warned that it can be damaging to the public in the long run.
Cabral claiming earlier having a similar debate with the Delhi government's power minister, questioned if Kejriwal was trying to lure his Delhi voters who have their 'second, third and fourth homes' in Goa.
He said Goa has 60% green cover, which is far bigger than Delhi. If 24/7 electricity supply is to be given, many trees would have to be cut, and he questioned if this is what AAP plans on doing.
He also said the infrastructure such as substations and transmission lines in Goa is being improved. That tenders with crore or rupees for underground cabling are to be approved, which was only delayed because of the pandemic.
He also said the Delhi government has not done what the Goa government had done, that is provide 50% subsidy for solar rooftop installation. This policy is helping the State generate 30 megawatts of solar power which will be generated by the end of 2021.
Further, the AAP leader disclosed that the size of Delhi's present budget is Rs 60,000 crores with a population of around two crore. The government can spend Rs 30,000 on each resident of the state annually and it does this by providing free electricity, free water, free first-class education, free healthcare, free testing, surgeries and medicines, free public transport, good roads and jobs.
"On the other hand, Goa has a budget of Rs 21,000 crore and 15 lakh popoulation. . Where is this money going?" Jain demanded.
Comment