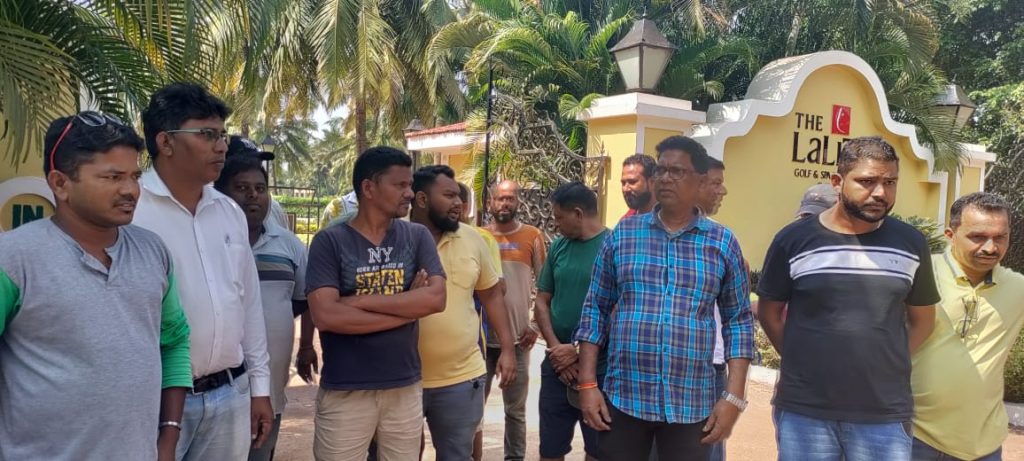 Goemkarponn desk
CANACONA: Stating they have stood by the Hotel during the thick and thin period (Covid lockdown), many youths having Tourist -Taxis of Rajbhag-Tarir gathered outside the Lalit Golf and Spa Resorts, Rajbhag for not allowing them to pick up Hotel Guests/Tourists from the Hotel.
After serving the hotel guests for the last 20-25 years, just preceding the Covid-19 lockdown situation, we were also used to being stopped from picking up guests from the hotel lobby, but still, we heartedly stood with the Hotel during the trying times of Covid situation. We used to ferry guests and others from the Hotel premises, and everyone was happy.
"Now, as things normalised and hotel buisness has picked up, at the behest of the Tourist Taxi union, we are not allowed to enter the Hotel gate in an empty vehicle (to pick up guests from the lobby). Hotel guests often directly book us and provide a time to pick them up, but security stops us at the gate", stated Prasad Pednekar.
'We served the Hotel during a thick and thin period, especially for the last two years of Covid-time, expecting the Hotel will cooperate with us and we will continue to get business. We are local residents, and our families survive on our Taxisl business", Yeshwant Dhuri.
Another local youth having Tourist Taxi, Devidas Pagi Guests, approaches us and, on the top, blames us for not picking them up on time. "but when we approach, the security stops us. Police are called to evict us if we try to question security. We won't tolerate this anymore, and we will launch a protest till the Hotel allows us to pick up Guests from the Hotel".
According to the locals, they have about 40 tourists in Taxi surviving on the Tourism Trade. There is a union of about 60 taxis with a few locals and most others from elsewhere in Canacona taluka, but they do not make us members.
Incidentally, when approached, The Lalit Golf and Spa Resorts officials informed they have nothing against the Taxi's picking up guests from the Hotel, but we have an agreement with the Taxi Union who object to permitting non-union members to pick up hotel guests.
"In the past, we were allowed, but after the agreement/understanding with the Tourist Taxi's Union, we also had to honour our commitment to the union", informed a responsible officer at the Hotel and further informed that the so-called local Taxis refuses to Join the Union to normalise their taxi Trade with the Hotel. Overall it's not a problem with the Hotel, but Hotel had all the time cooperated with everyone, including the locals having taxis'.
Comment