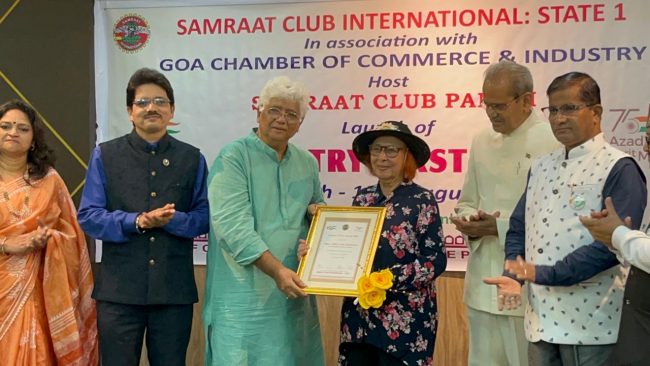 Goemakrponn desk
PANAJI: Country First Week was launched by Samraat Club International, State 1, at a special function held at GCCI Hall, Panaji. Freedom fighter Mrs Libia Lobo Sardessai and 1 Goa Bn NCC were felicitated with Country First Awards.
Chief Guest, former Union Minister Ramakant Khalap, complimented Samraat Club for felicitating Libia Lobo Sardessai, who has worked for Goa's Liberation and been an active contributor. He also appreciated the role of NCC in instilling patriotic commitments in our students.
Libia Lobo Sardessai called upon the citizens to fulfil their obligations to the Country. She shared how she and Vamanrao Sardessai operated a radio to counter the lies of the Portuguese. She spoke about her Vedanta Institute and the need for values in society.
Col. Rathore of NCC appreciated the concept of Country First Week by the Samraat Clubs. He underlined the role of all citizens to preserve the freedom won against great odds. He appealed to Goan youth to join the armed forces.
State President Deepak Narvekar highlighted the activities of the Samraat Club and spoke about the objectives of organising Country First Week. Guest of Honour Chandrakant Gawas, Founder Guruprasad Shinkre, Pravin Sabnis, and Country First Week event coordinator Rajan Rane also spoke on occasion. Members of Samraat Club Panaji presented the national song, Vande Mataram. Yadunath Shirodkar compared, and Shashikant Punaji proposed the vote of thanks. Prerana Pawaskar, President Samraat Club Panaji welcomed the gathering. State Treasurer Gautam Kharangate also assisted in the event.
The event was hosted by Samraat Club Panaji. Samraat members from all over Goa attended the program being organised as part of Azaadi ka Amrutmahotsav. Country First Pledge Posters, Awards, Banners, Badges and a booklet were released on the occasion.
Country First Week is being celebrated by all Samraat Clubs from 9th to 15 August with various activities on the theme of Country First, Freedom fighters, National icons & Patriotism. The activities are organised for students, teachers, voluntary organisations, the public, Uniformed forces, Local Panchayat or Municipality, hygiene workers & other groups.
Deepak Narvekar, President SCI State I honoured Guests Ramakant Khalap, Guruprasad Shinkre, Divakar Shinkre and Chandrakant Gawas with prestigious State President recognition Pins.
Comment