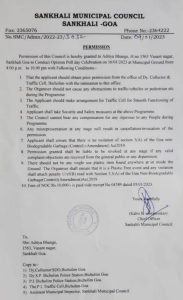 * Chairperson suspects permission for Mhadei meeting withdrawn under pressure by CO
* Save Mhadei, Save Goa says they have multiple venues for meeting
Goemkarponn desk
SANKHALI: Sankhali Municipality Chairperson has revoked permission to organise a mega rally on January 16 under the banner of Save Mhadei, Save Goa front.
The municipality has cities cited the possibility of traffic congestion and commotion on the proposed day of the event, which also coincides with the weekly market dayat Sankhali.
SMC Chairperson Rajesh Sawal said that Chief Officer (CO) might have withdrawn permission to Save the Mhadei meeting under pressure while stating that Sankhali Municipality has no problem with the conduct of the meeting.

"We don't understand under whose pressure CO has withdrawn the permission. CO has to explain to the people of Goa", Sankhali Municipality Chairman Rajesh Sawal posted on his social media handle.
Sankhali Municipal Council later also said that they have no problem in issuing permission for Opinion Poll Celebrations meeting on the theme Save Mhadei Save Goa.
Sankhali Municipal Council Chief Officer Kabir Shirgaonkar, in his letter, stated that the permission for the meeting on January 16 had been revoked on account of the possibility of traffic congestion and commotion on the week of Sankhali Bazaar day, which is held in the adjoining open spaces of the municipal ground.
Meanwhile, Save Mhadei Save Goa has appealed to all the Goans to gather in huge numbers near Amona Virdi bridge on 16th Jan 2023 at 4 pm
"We have multiple venues for meetings", they said.
Comment