Sudden rains cause heavy losses in Sanguem-Quepem-Curchorem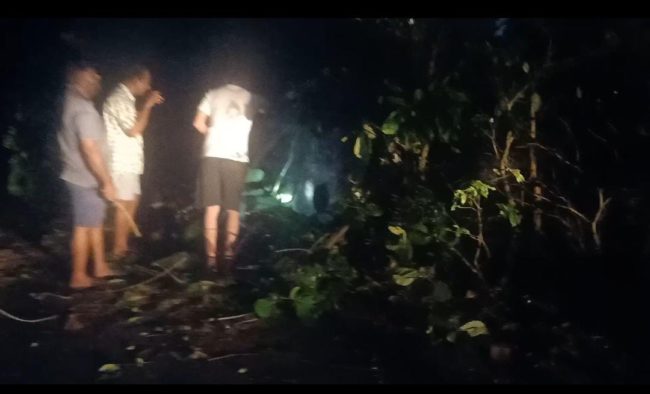 Goemkarponn desk
CURCHOREM: Sudden Cyclonic condition followed by heavy rains and thunder brought the people of Curchorem, Quepem, on their toes on Tuesday evening.
As the rains hit badly in Quepem, Curchorem, and many other parts of the State constituency, many trees and electric poles were uprooted. Many families faced losses to their property.
In some places, due to cyclonic storms, electric poles and wires were damaged, and for many hours people were left with no electricity from evening 6 pm for almost 18 hours.
Damodar Zambaulikar, in charge of the Curchorem fire station, said that there were a total of 11 calls due to rain and cyclonic eruption, and the major loss was Rs. 30,000 at Bagawada Curchorem, and Rs.20,000 loss due to Badam tree fell on a shade and garage of the house at Bansai Curchorem.
Further, he said Rs.1.5 lakhs of the property was saved, Rs.50,000 losses were incurred, and this area of Quepem Curchorem Sanguem Sanvordem came under the jurisdiction of the Curchorem fire station.
Coconut tree fell at Bhagawada Curchorem, road and house loss of 30,000 thousand.
Nirmal Nagar Xeldem behind the government college Quepem coconut tree fell on electric wires.
Bansai badam tree fell on the shade of the house, and the electric pole caused a loss of rupees 20,000. coconut Tree road Dulkap-Gawali Wada tree fall in Cacora-Curchorem
Mirabhag Sanvordem coconut tree fell on garage and the main road of Pomtemol Mirabhag road.
Trees fell on the roads at Killrapal Sanvordem, Sahasanmoddi Kakoda, Cacora Curchorem, Pomtemol, Curchorem, Valkini Sanguem jungle and at Savarimol Ugem Sanguem coconut tree fell on electric lines.
Comment