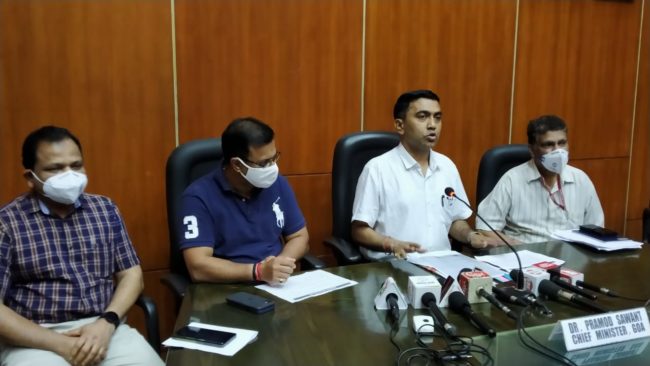 Goemkarponn desk
PANAJI: Looking at good response from previous vaccination drives, Chief Minister Pramod Sawant today announced that Tika Utsav 3.2 will begin from September 16.
"Looking at previous Vaccination drives in Goa which have garnered a lot of people, we are today announcing Tika Utsav 3.2, which will begin tomorrow," said CM Sawant
He further said that Goa has achieved 100 per cent in terms of the first dose of vaccine and that the state has now kept October 31 as a target to complete the second dose.
"Goa has an eligible population of around 11,66,000 of which 11,88,891 people have already take the first dose while 43 per cent have taken the second dose. This is a proud moment for us," he said.
CM Sawant also informed that Prime Minister of India Narendra Modi will be interacting with Goans, including health workers, Panchayats, Cabinet ministers, and the public, on September 18 to congratulate on achieving 100 per cent Vaccination of the first dose.
Taking a dig at the opposition, CM Sawant said that instead of criticizing the state government for over 100 per cent vaccination, it should encourage our people to get vaccinated.
Reacting to the deaths of COVID-19 patients, CM Sawant clarified that 9 out of the 10 patients who died during the last week were non vaccinated.
"It is my sincere request to the people to vaccinate themselves, which will help us to decrease the mortality rate and other COVID19 related complications," CM added.
Comment