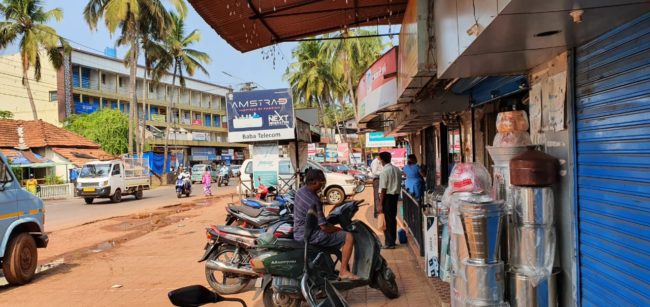 Goemkarponn desk
CANACONA: The situation for the residents of Canacona nowadays is far worse than getting trapped between a devil and the deep sea, the devil here is the unprecedented spread of Covid-19 cases in recent weeks and the deep sea is the different types of taxes they are supposed to pay in spite of their income taking a nose dive since last more than a year now.
Talking about Covid-19 situation in the taluka it was not so bad till a few weeks ago and was under control but the businesses had taken a biting on its back since last one year.
But if one takes a look at the different taxes, there are atleast a dozen types of taxes which have multiplied mathematically since last couple of years just the way the Covid-19 cases increased recently.
The list of taxes, fees and levies start from income tax, municipal taxes, fire NOC charges, CRZ license fees, tourism department fees, Goa Pollution Control Board fees, VAT, Excise department fees incase of liquor shops the list is endless and the tourism business operators pay through their nose they say.
It is no different for other entrepreneurs also who are just about struggling to make their ends meet.
Canacona taluka just has about fifty thousand population and since it is bounded by the best of the beaches on the western side it is natural that most of the people living not only on the coast but hinterland too benefited economically due to boom in tourism since last more than twenty years.
Today the tourism industry just like at other places in the world is in total doldrums since March last year with little hope of early revival.
The second largest money providers in the taluka till last year were the Non Resident Goans working in Gulf, UK, on ships and other countries.
It is believed that before March 2020 there were about three thousand from Canacona working outside the country sending remittances to the tune of about fifteen crores every month which helped the local economy moving.
There is no data available of the number of people working abroad rendered jobless post 2019, however not less than two thousand are at home waiting a call from their companies to rejoin.
This remittances have dried up as almost all have returned home and living on their savings.
To simply put it locals are struggling to pay their daily bills forget about the taxes and other levies says Anil Bhagat.
It's a pity that the government and its departments are not sensitive towards the sufferings of its people, how can you justify the increase in taxes and other levies when there is no income asked Bhagat.
Diogo Da' Silva who runs a grocery cum wine shop at Chaudi since last two decades and the president of Canacona Traders Association says that its difficult to earn even one thousand a day inspite of me and wife working for twelve hours, I have to pay light bill, municipal charges, excise fees, mobile phone bill, water bill and what not the list is endless, its matter of time when shopkeepers in Canacona will say its time to shut down.
"After Covid-19 illness and death, the other grim reality of life is taxes and other levies, government has to come to our rescue and reduce the taxes and levies by half otherwise we will reach to a point of no return " opined Da' Silva.
Comment