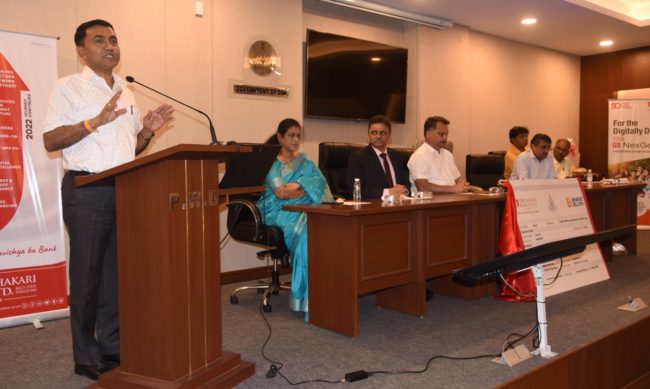 Goemakrponn desk
PANAJI: The Chief Minister, Dr Pramod Sawant, said that To increase the happiness index in Goa, all Government services need to be made online.
The Chief Minister, Dr Pramod Sawant, and Minister for PWD, Nilesh Cabral, launched the "Bharat Bill Payment System (BBPS) in collaboration with TJSB Sahakari Bank Ltd. for water supply Bill Payment at PWD, Head Office, Altinho Panaji on Wednesday.
Chief Secretary, Puneet Kumar Goel, IAS; Principal Chief Engineer, Uttam Parsekar, Chief Engineer, Santosh Mhapne; Managing Director and CEO Sunil Sathe and Chief General Manager Shubhalaxmi Shirali from TJSB Sahakari Bank Ltd were present on the occasion.
BBPS is a centralised bill payment system which gathers details of bills issued by utility services and facilitates payment instantly across India. Any bank or a payment company plugs into BBPS can allow its customers to view and pay bills. Here TJSB Sahakari Bank Ltd has supported Water Supply Bill Payment through BBPS.
The Chief Minister congratulated the TJSB Sahakari Bank Ltd for their initiative of the BBPS for water bill payment digitally.
"The Government has not stopped supplying 16000 litres of free water. The Government continues to provide 16000 litres of free water. Nearly 130000 people are getting 16000 litres of water at no cost and will continue to receive it in future," he said.
He also congratulated Cabral for resolving issues such as water shortages in flats, rental houses, and other areas, and supporting the scheme of the Government about providing 16000 litres of water free to the people and keeping continuity in this scheme.
Further, the Chief Minister said to make life easier, we must provide as many services as possible online.
"The Tourism Department has begun making all schemes available to all stakeholders online. With the help of GEL, the Government can provide the majority of government services online. So far, 121 government services are available online, "he said.
He encouraged people to take advantage of them.
"If we want to increase the happiness index in Goa, we need to provide ease of living, and the administration aims to bring most of the government service online," he added.
Nilesh Cabral expressed his gratitude to TJSB Sahakari Bank Ltd for supporting the BBPS system for PWD water supply bill payment at no cost. This BBPS system will allow customers to pay their water supply bills online, save time, reduce paperwork, and improve the department's billing cycle process.
Cabral informed that TJSB Sahakari Bank Ltd had supported such payment mechanisms for paying electricity bills. The PWD also plans to establish the concept of an Any Time Payable Machine (ATPM) for water bill payment, which will allow for both online payment and even cash payments at various machines for 24 hours. He added that the concept of paying by cheque and DD will be abolished as done in electricity bill payment once this BBPS process is fully established.
Earlier, Sathe welcomed the guest. Smt. Akshata Bhat compered the function, and Santosh Mhapne proposed the vote of thanks.
Comment