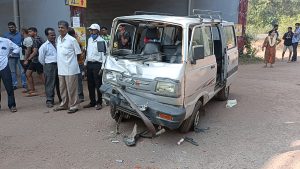 Goemkarponn desk
PONDA: Bangalore Tourist family arrived for Goa Darshan injured in an accident between Maruti Omni and Milk Tempo at OPA Junction today at 7 am.
The accident took place when Milk supplying tempo while coming from Kodar towards OPA Khandepar Junction took (entered from no entry of underpass ) i.e. is the right-hand side of underpass and dashed Maruti Omni vehicle due to which driver of Omni car and one occupant injured. Luckily the children's and other occupants in Omni escaped with minor injuries.
The Omni Car driver followed the Google map route, which has now been locked. However, there has yet to be an update on the Google Maps route.
The locals blamed the government for the mess and chaos that were taking place because Google Maps showed the wrong road.
The OPA Khandepar junctions have been turned into accident prone zone due to an incomplete bridge and an old Google map.
The Locals here demanded that the government immediately complete the incomplete Khandepar bridge by constructing an approach road towards the Ponda side and updating the Google map.
Sandeep Parkar regretted that because of this incomplete bridge, accidents are causing.
He said when Home Minister Amit Shah arrived last time towards this side, Google Maps had shown a right-hand side of the service road to proceed towards Usgao, but now this road is locked..however, there are no updates about it on Google Maps.
As a result, the commuter travelling towards Usgao follow the same route shown on Google Maps and meets in accidents.
Suraj Garad said to avoid rumblers on the lefthand side, the vehicles take the right-hand side at the underpass and cause accidents.
Comment