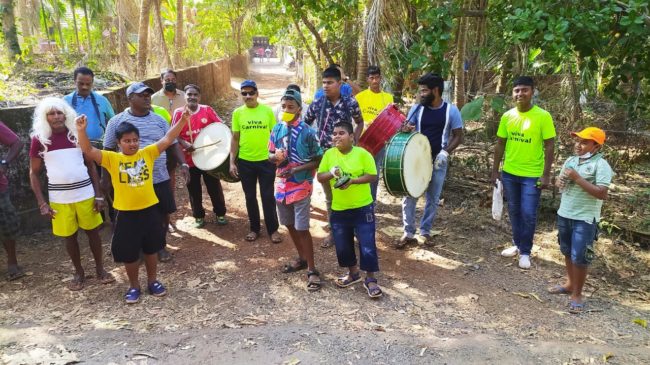 Goemkarponn desk
CANACONA: The three-days 'Intruz' revelries came alive as the 'Mell', groups of youngsters began to visit house to house and play as part of traditional Carnival celebrations in Canacona.
While the Carnival floats are mainly restricted to urban areas with the beginning of deliveries at Panjim on Saturday, the traditional Intruz celebrations began only Sunday, with some of the groups taking out 'Mell', soon after the Sunday masses.
In Agonda, amongst the previous six groups, as many as five Mell's were taken out from their respective 'Mand's' located in their wards. The 'Mell' then plays at their respective member's houses and accepts invitations from other households in the village.
Playing 'Dhol', 'Tanso' and 'Kansai', the ethnic type of playing instruments for Intruz, the group performs with folklore songs in the house Courtyard while holding Prayer services at a 'Mourning' house for the soul of the departed soul.
Furthermore, the group also conducts a prayer service and performs wherever coming across Chapels or Holy-crosses.In a customary practice, households either offer snacks, drinks or sweets, invitees literarily reciprocate by financial gratification for playing at their doorsteps.
The three days Intruz revellers are performed only to culminate by Tuesday midnight. Besides, Agonda, some of the groups at Ponsulem, Bhatpal, Galgibaga, Chiplem and Loliem-Polem continue to keep this ethnic tradition alive by taking out 'Mell' as part of Intruz celebrations.
Meanwhile, the Awards-winning set-of-three folk plays 'Puth', 'Ghorabo' and 'Samballta' by Kallis de Orlim will be performed at three different places in Agonda on Monday Karashir-Moll B(3 pm), Karashir-Moll A(6 pm) and St.Anne's Agonda Church Ground (9 pm). \
The Writer of the plays and Lyrics is provided by Antonet de Orlim. The plays also has local talents Delington Monteiro and Melban Fernandes.
Comment