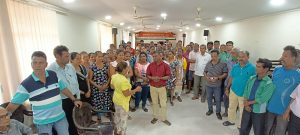 Goemkarponn desk
PONDA: The panicked Usgao locals, along with women today, gathered at Usgao Ganjem Panchayat Office and staged Dharnas to oppose the WRD Bandhara coming up at Sonarbag Usgao.Usgao.
The women said they don't want WRD Bandhara on the Khandepar river at any cost. They were upset that Sarpanch was on leave without giving charge to anyone.
According to women, the area is prone to flood, and with the worst flood experience of 2021, they fear that Bandhara would only add to their problem, causing major floods in the Monsoon, and some houses collapsed in flood when nobody came to their help.
Says they will oppose at any cost. Gathers at Panchayat, stage Dharnas Panchayat Office asking to bring stay on Bandhara work. Decide to take a final decision on 26 Jan in gram sabha.
They gathered at Usgao Panchayat and decided to take the Bandhara issue in Gramsbaha on 26 Jan.
It may recall that the government had planned Rs 100 crore Bandhara cum barrage is planned at downstream of Khandepar river to improve water supply for Priol Constituency. However, locals, out of fear of flood in Monsoon, opposed the Project, with Khandepar Panchayat locals opposing it at Murdi Khandepar while on the other side, Usgao end it is opposed by Usgao locals fearing flood.
Comment