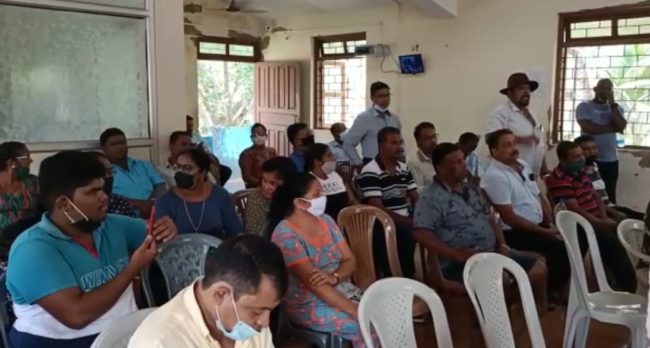 Goemkarponn desk
VASCO: Velsao-Pale-Issorcim panchayat, in its ordinary gram sabha meeting on Sunday, took a resolution barring any local person from subletting his movable handcart to migrants. Gram sabha members also opposed the Cyclone (siren) alert tower on the Velsao beach.
On Sunday, during the ordinary gram sabha meeting, locals from Velsao-Pale-Issorcim strongly opposed the Cyclone (siren) alert tower on the Velsao beach. Fishermen claimed that there is no need for such a tower at the beach area, and they get intimation about any cyclonic conditions at sea from television news etc. This opposition came out of the ambiguity about the role and scope of this tower on this beach.
Further, subletting of the handcarts by the local Goans to migrants was yet another issue which rocked the Velsao Gram sabha. During this meeting, the panchayat resolved not to allow any local to sublet his handcarts to migrants.
Speaking to the Goemkarponn, Velsao Sarpanch Henrique D'mello said that Gram Sabha took resolution against subletting of the handcarts by the locals to the migrants.
"We will not allow such subletting of handcarts because we give permissions to these handcarts since it generates employment to the locals, but if such subletting is taking place, then the whole motto of giving employment to locals fails. Therefore, we took a resolution on this," they said.
Further, he also said that gram sabha members resolved to oppose Cyclone (siren) alert tower at Velsao beach as they feel that there is no need for such a tower, and the fishermen get prior intimation from IMD about any such cyclonic conditions at sea.
Meanwhile, a social worker from Velsao, Roquezinho D'Souza, felicitated all seven panch members of the Velsao-Pale-Issorcim panchayat for working honestly throughout their tenure and without getting involved in any corrupt practices.
D'Souza gave momento to all panch members and appreciated their work towards the village. After the gram sabha meeting, D'Souza also told reporters that he will not contest any election in the near future but will remain active as a social worker giving service to the people.
Comment